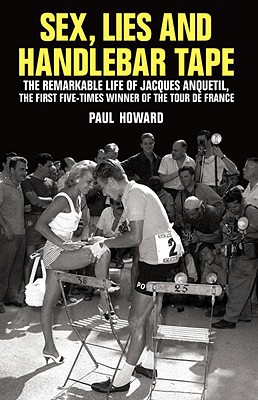 Sex, Lies and Handlebar Tape (Hardcover)
The Remarkable Life of Jacques Anquetil, the First Five-Times Winner of the Tour de France
Mainstream Publishing Company, 9781845963019, 317pp.
Publication Date: September 14, 2009
Other Editions of This Title:
Paperback (10/1/2011)
* Individual store prices may vary.
Description
Jacques Anquetil remains one of the most outstanding figures in the history of cycling. He was the first man to the win the Tour de France five times; the first to win all three grand tours (the Tour de France, Vuelta a Espana, and Giro d Italia); and the first to win both the Tour and Vuelta in the same year. The fame Anquetil received for his cycling success was matched only by the infamy of his complex and unconventional private life. As this engaging biography reveals, between his races Anquetil seduced his doctor's wife and acted as stepfather to her children before asking his stepdaughter to bear him a child. He maintained a menage a trios with his wife and stepdaughter for several years until the threesome fell apart, after whichin a bid to inspire jealousy in his two former lovers and encourage their returnhe seduced his stepson's ex-wife and had a child with her. Containing exclusive contributions from Anquetil's family, friends, teammates, and rivals, this engaging biography unveils the astounding public and private lives of one of cycling's greatest legends.
About the Author
Paul Howard is a sports journalist andthe author of "Riding High," shortlisted for the National Sporting Club's Best New Sports Writer prize."