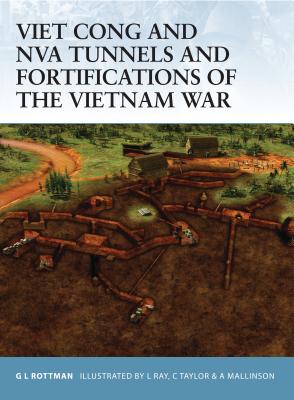 Viet Cong and NVA Tunnels and Fortifications of the Vietnam War (Paperback)
Osprey Publishing (UK), 9781846030031, 64pp.
Publication Date: August 1, 2006
* Individual store prices may vary.
or
Not Currently Available for Direct Purchase
Description
Field fortifications and tunnel systems are typically thought of as defensive and active protective measures, but the VC/NVA also employed them offensively. It was common for extensive field works to be constructed to support assaults and sieges on US fire-support bases and remote camps. Their tactics reflected attempts to counter the massive firepower they faced: when directly engaging the enemy they employed "hugging" tactics (moving in and remaining closely engaged, even intermingling units, to prevent the enemy from bringing his artillery and close air support to bear). Their field works included defended villages, base camps, fortified complexes, hilltop defenses, trench systems, individual fighting positions, crew-served weapon positions, bunkers, caches, and extensive tunnel systems. Camouflage and deceptive measures, and the employment of obstacles and booby traps went hand-in-hand with such field works. This book examines these unique fortifications.
About the Author
Gordon L Rottman entered the US Army in 1967, volunteered for Special Forces and completed training as a weapons specialist. He was assigned to the 7th Special Forces Group until reassigned to the 5th Special Forces Group in Vietnam in 1969-70. Gordon worked as a civilian contract Special Operations Forces Intelligence Specialist at the Army's Joint Readiness Center, Ft Polk, until 2002. A highly respected and established author, who is a recognised expert on this subject, he now devotes himself to full-time writing and research.
Praise For Viet Cong and NVA Tunnels and Fortifications of the Vietnam War…
"Overall, it is an intriguing book covering a period of time that we all hoped would not be repeated. It is one that I found difficult to put down and I'm sure you will as well." -Scott Van Aken, modelingmadness.com
Advertisement