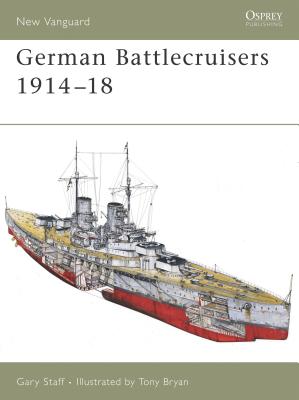 German Battlecruisers 1914-18 (Paperback)
Osprey Publishing (UK), 9781846030093, 48pp.
Publication Date: June 1, 2006
Description
This book discusses the concept of the Battlekreuzer. The German Groerkreuzers, as they were known, were built to strict financial limits, and therefore the German designs were always a compromise between the factors listed under design philosophy. Individual ship histories are detailed with particular emphasis upon their battle experience and deployment in conflict, and author Gary Staff includes a variety of official records and personal first-hand accounts will be used. The battlekreuzer had a remarkable ability to withstand battle damage, as demonstrated by the Goeben, which suffered five mine hits on one occasion. Full colour artwork plates and detailed line drawings and photographs support the and enrich the engaging text.
About the Author
Gary Staff has had a life-long passion for the history of the Imperial Navy and translated many contemporary and original documents on the subject. He contributed to a Channel 4 documentary on Jutland, exploring the Imperial Navy's experience of the battle. He grew up in Australia and currently lives on the island of Palau.
Praise For German Battlecruisers 1914-18…
"...German BattleCruisers 1914-18 is a fascinating account of one of the main types of warships comprising the heart of the German Navy during World War One... the book is finely written and extraordinarily researched. It would appeal to and make a valuable addition in the library of naval and maritimes historians, scale modellers, naval architechts, naval ordnance specialists, marine engineers and those interested in the ships and history of the Imperial German Navy. The book is highly recommended." -Mark R Condeno, Canadian Army Journal (Fall 2007)

"Overall, this is a superb book on the type and an excellent primer for those who want to get the basic on these most interesting ships." -Scott Van Aken, modelingmadness.com
Advertisement