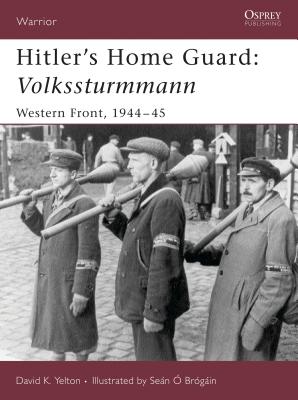 Hitler's Home Guard: Volkssturmmann: Western Front, 1944-45 (Paperback)
Volkssturmmann: Western Front, 1944-45
Osprey Publishing (UK), 9781846030130, 64pp.
Publication Date: September 26, 2006
* Individual store prices may vary.
or
Not Currently Available for Direct Purchase
Description
Osprey's study of Germany's Home Guard during the latter part of World War II (1939-1945). The creation of the German Home Guard or Volkssturm on 18 October 1944 was a desperate measure by the Nazi regime to utilize every available manpower resource in their last-ditch attempts to delay their inevitable defeat. All able-bodied males between the ages of 16 and 60 who were not already members of the German Armed Forces were conscripted into one organization. The aim of the Volkssturm was to shore up the defense of the Reich, but also to restrict any possible revolt or dissent by exercising military discipline over the entire male population of fighting age. This Nazi fantasy was the creation of a new force of highly-motivated Aryans dedicated to the heroic defense of their fatherland. However, the Volkssturm failed due to poor equipment, lack of training, and low morale. Men who had no experience of combat and little or no inclination to fight, and who had little interest in the Nazi regime found themselves sent into battle against impossible odds and achieving little or nothing.
The focus of the book is the section of Germany's western front where the Volkssturm fought in vain to slow the advance of Canadian forces and where the desertion rate was very high. David K. Yelton follows the experience of a Volkssturm conscript from his call-to-arms, into action and through to his capture and time as a POW, examining his personal reaction to the creation of the German Home Guard and his response to the fighting into which he was thrust.
About the Author
Dr David K. Yelton is Professor of History and Chair of the Social Sciences Department at Gardner-Webb University, North Carolina. His lifetime work as been the study of twentieth-century Germany and military, political and diplomatic history. He has written numerous academic monographs and articles on the Volkssturm and has conducted research trips to Western German archives for source material. He lives in North Carolina. The author lives in North Carolina, USA.
Praise For Hitler's Home Guard: Volkssturmmann: Western Front, 1944-45…
"There have been few books published in English specifically on the Volkssturm. This is a good introduction to the subject." -Thomas Kailbourn, Military Trader
Advertisement