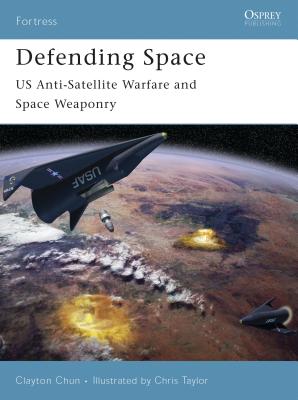 Defending Space: Us Anti-Satellite Warfare and Space Weaponry (Paperback)
Us Anti-Satellite Warfare and Space Weaponry
Osprey Publishing (UK), 9781846030390, 64pp.
Publication Date: October 31, 2006
* Individual store prices may vary.
or
Not Currently Available for Direct Purchase
Description
The United States has been developing space for many years, and satellites provide the US military with an unparalleled advantage over adversaries. Constellations of both military and civilian satellites provide protection and support for military operations, deliver ballistic missile early warning, supply reliable, secure and jam-proof communications, gather audio-visual amd electronic intelligence, predict weather patterns, guide navigation, target weapons, and perform a host of other missions. These systems are critical to America's status as a world power, and potential threats to them are carefully assessed by US military planners. In January 2001, a commission led by Donald Rumsfeld warned of the growing threat to US space assets from so-called "rogue states," who (with varying degrees of difficulty) might build and deploy "space mines," launch ballistic anti-satellite weapons, deliberately increase orbital debris or detonate high-altitude nuclear explosions. The defensive options currently available to the US include improving satellite defenses (making them more robust and maneuverable, and improving threat detection) and the controversial placing of weapons in space (in "sentinel satellites") to protect military and civilian hardware. Since the 1950s research and development has been applied to space weaponry with mixed results, and not only by the USA. This book explains the origin and development of systems used to defend the United States from past, present and future threats, and to support military operations.
About the Author
Clayton K. S. Chun, Ph.D., is on the U.S. Army War College faculty at Carlisle Barracks, Pennsylvania where he teaches courses on national security, strategy, and economics. He completed a military career in the U.S. Air Force and has published in the fields of national security, military history, and economics. The author lives in Pennsylvania, USA.
Praise For Defending Space: Us Anti-Satellite Warfare and Space Weaponry…
"This well-illustrated book is an engaging introduction to a field with which many of our readers may not be familiar. For those interested in 21st-century defenses, it is certainly recommended." -Bolling Smith, Coast Defense Journal

"...an intriguing survey of space weaponry development and history key to any understanding of modern military systems... [One of the] top picks for specialized military holdings." -California Bookwatch
Advertisement