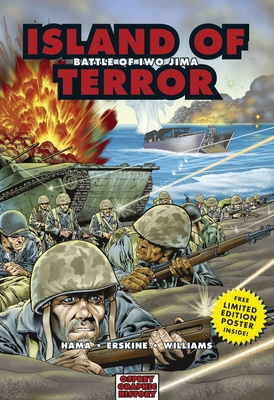 Island of Terror: Battle of Iwo Jima (Paperback)
Battle of Iwo Jima
Osprey Publishing, 9781846030550, 48pp.
Publication Date: October 24, 2006
* Individual store prices may vary.
or
Not Currently Available for Direct Purchase
Description
A key strategic victory that paved the way for the Allied invasion of Japan, Iwo Jima was described by Lieutenant-General Holland Smith, Commander Fleet Marine Forces Pacific, as "the most savage and costly battle in the history of the Marine Corps." For 36 days in February and March 1945, Marines pounded an island fortified by miles of interlocking caves, concrete blockhouses and pillboxes - one of the most impenetrable defenses of the Pacific War. Unwilling to surrender, the Japanese fought until the bitter end: nearly all of their 20,000 troops were killed in the fighting, compared with 7,000 US dead. At Iwo Jima, the Marines secured an island base that would prove crucial in the final battles of the Pacific campaign. This book illustrates the Marines' decisive victory at Iwo Jima in graphic novel format and includes eight pages of background information detailing the key players, the experience of the forces, and the aftermath of the battle.
About the Author
Larry Hama is best known as a writer and editor for Marvel Comics where he was responsible for creating and writing the G. I. Joe comic book of the 1980s, and developing many of the G.I. Joe characters for Hasbro. His other comic book writing credits include Wolverine, Avengers, Elektra, Venom, and Batman. Larry also created the Bucky O'Hare comic, which was turned into a toy line and an animated TV series. He lives in New York. The author lives in New York, USA.
Advertisement