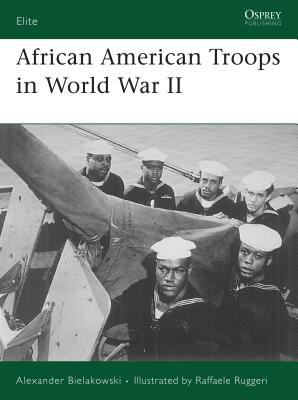 African American Troops in World War II (Paperback)
Osprey Publishing (UK), 9781846030727, 64pp.
Publication Date: November 20, 2007
* Individual store prices may vary.
or
Not Currently Available for Direct Purchase
Description
Osprey's study of the African Americans' involvement in World War II (1939-1945). Despite the contribution of black units to the American Expeditionary Force in World War I (1914-1918), and the commissioning of hundreds of black officers to lead them, the small interwar US Army continued to regard them as unsuited to both leadership roles and handling modern technology. Although African Americans had to strive against prejudice for every chance to show what they could achieve, in fact the wartime US Army conceded opportunities for leadership unparaleled in American civil society at that date. In World War II tens of thousands served in segregated units. While the majority were denied the opportunity of combat, a minority of all-black, black-officered units proved their worth in all theaters and a number of roles: black officer fighter pilots (the "Tuskegee Airmen") blazed the trail, followed by several tank and tank-destroyer battalions and a few field artillery units; and more than 20,000 black infantrymen served under both white and black officers. The Army also created the first fully integrated units, whose success prompted President Truman to order the complete integration of the military in 1948. The US Navy and Marines were slower to allow blacks to serve in combat roles and to commission black officers, but by 1945 two complete ships' companies were composed of African-Americans (though with white officers).
About the Author
Alexander M. Bielakowski completed his Ph.D. in US military history at Kansas State University. He has written several articles on various aspects of military history, with a special interest in horse cavalry during the 20th Century. In 2000 he attended the West Point Summer Seminar in Military History at the United States Military Academy, and served as a historical consultant and interviewee for the History Channel documentary Animals in Action: Horses (2002). Dr. Bielakowski is an Associate Professor of Military History at the U.S. Army Command and General Staff College, Fort Leavenworth, Kansas. The author lives in Leavenworth, KS.
Praise For African American Troops in World War II…
"Author Bielakowski tells the story of these men service by service and covers some of the greatest successes as well as some of the failures. This is all enhanced by quality period photos and the illustrations of R. Ruggeri. In all, a superb book on a part of WWII that gets very little press. A book I can justifiably recommend to you." -Scott Van Aken, modelingmadness.com (December 2007)
Advertisement