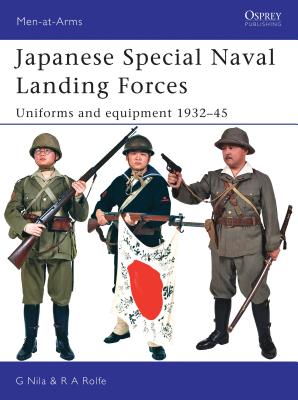 Japanese Special Naval Landing Forces: Uniforms and Equipment 1937-45 (Paperback)
Uniforms and Equipment 1937-45
Osprey Publishing (UK), 9781846031007, 48pp.
Publication Date: June 1, 2006
Description
The spearhead of Japan's assault landing operations both in China pre-Pearl Harbor, and in US and British territory post-Pearl Harbor, was provided by the Special Naval Landing Forces - 12 numbered battalion-size Imperial Japanese Navy units. They garrisoned a number of the islands which the US Marines then had to re-claim in some of the bloodiest battles of the Pacific War of World War II (1939-1945). These included the infamous battles of Iwo Jima and Okinawa. This book provides a comprehensive treatment of the elite force which has never before been examined in such detail in English, covering weapons and equipment as well as uniform and insignia.
About the Author
Gary Nila is a former Los Angeles Police Officer and FBI Special Agent who now works as an investigator with Northrop Grumman Corporation Air Combat Systems. He has been a collector of World War II Japanese military uniforms and equipment for over 30 years. Robert Rolfe is retired from the US Postal Service, and has collected WWII Japanese Military uniforms and equipment for over 42 years. Robert has one of the largest and most complete SNLF collections in the world. Robert lives with his wife in Burbank, CA.
Praise For Japanese Special Naval Landing Forces: Uniforms and Equipment 1937-45…
"Nila's text is a comprehensive treatment of the history of the SNLF and descriptions of their uniforms, equipment, insignia and weapons. Included are breathtaking, never before published wartime photos. The centerpiece of the book is Rolfe's extensive collection of original SNLF equipment. Photographed on real human models these stunning photos represent front and back of officers and enlisted men in each of the SNLF uniforms. Rolfe's collection includes rarities like their bullet proof vests, helmets and all equipment carried by the troops. For anyone interested in the SNLF, this book is one of the only references available in English." -www.pacificwrecks.com

"This book is not only for those with lots of standard Imperial Japanese Army and Navy figures who want to paint something different. The information and photos included make this book a great one to have if you are interested in Pacific Island fighting and the Japanese forces. I used the writing on a flag from one of the photos as the basis for a converted IJA figure of my own!" -Michael Koznarsky, Gamers Closet
Advertisement