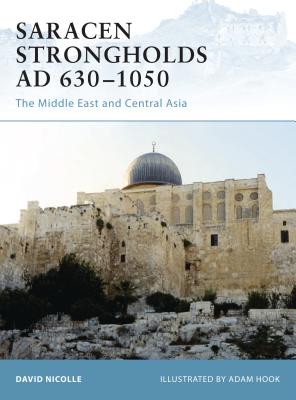 Saracen Strongholds AD 630-1050: The Middle East and Central Asia (Paperback)
The Middle East and Central Asia
Osprey Publishing (UK), 9781846031151, 64pp.
Publication Date: June 17, 2008
* Individual store prices may vary.
or
Not Currently Available for Direct Purchase
Description
The Islamic world developed its own highly sophisticated, effective and varied style of fortification. It drew upon pre-existing Romano-Byzantine, Iranian, Central Asian and Indian traditions of military architecture, plus influences from China, to produce something new and distinctive. In turn, Islamic concepts of military architecture influenced fortifications throughout the Byzantine Empire and, to an even greater extent, in Western Europe. One key point of distinction with the latter in particular was that Islamic fortifications were primarily focussed upon defending cities and frontiers, rather than being associated with royal and feudal elites, as was the case in most of Europe. Despite this highly practical role, medieval Islamic military architecture went beyond the merely functional, and the finest surviving examples are imbued with a sense of symbolic magnificence. This title, the first of several proposed volumes in the Fortress series, takes a look at early Islamic fortifications in the central and eastern lands. It covers the historical background, socio-political circumstances, and purposes of early military architecture; the incorporation of several different traditions and the development of a distinctive character; and the fortifications' role in protecting industry, trade and the frontiers of the Islamic world. Subsequent volumes will deal with the 12th to 16th centuries in the center and east, and the western Islamic lands of North Africa and the Iberian Peninsula, respectively.
About the Author
David Nicolle was born in 1944 and worked for the BBC, including the overseas broadcasting service, before returning to university, obtaining his PhD in Edinburgh. He subsequently taught at Yarmouk University in Jordan. He now devotes himself to writing, and is a specialist in medieval arms and armor. He is also a frequent contributor to numerous specialist journals and international conferences. The author lives in Leicestershire, UK.Adam Hook studied graphic design, and began his work as an illustrator in 1983. He specializes in detailed historical reconstructions, and has illustrated Osprey titles on the Aztecs, the Greeks, several 19th century American subjects, and a number of books in the Fortress series. His work features in exhibitions and publications throughout the world.Adam Hook lives in East Sussex, UK.
Praise For Saracen Strongholds AD 630-1050: The Middle East and Central Asia…
"It is worth your time to pick up "Saracen Strongholds" and I hope to check out some of the other "Fortress" titles in the near future." -Trask, livingdice.com (April 2009)

"... In this book, author David Nicholle covers the methods of construction as well as the major parts of [the] fortresses ... To help us visualize what some of these may have been like, Adam Hook has provided superlative illustrations of not only the physical layout, but also some of the action that took place at these locales ... Overall, another fine book in this series." -Scott Van Aken, modelingmadness.com (September 2008)

"As the Islamic Empire expanded, it drew upon a variety of earlier fortification styles: Romano-Byzantine, Indian and even Chinese. This book explains how these different themes were combined in Islamic fortifications... The book is authoritatively written and well illustrated." -Bolling Smith, Coast Defense Journal (September 2008)

"The book details some of the best examples of Islamic military architecture in the Middle East...Of course, if you are looking for a good description of one of these sites or even a regional description, the book can be a useful resource."-David Nicolle, FORTRESS 76 (July 2008)

"The Islamic world drew upon a myriad of pre-existing styles of fortication that was both new and distinctive. This book examines early Saracen fortifications, covering their historical background, socio-political circumstances, and their role in protecting the Islamic world." -Game Trade Magazine (April 2008)
Advertisement