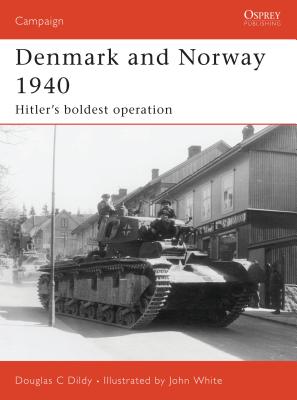 Denmark and Norway 1940: Hitler's Boldest Operation (Paperback)
Hitler's Boldest Operation
Osprey Publishing (UK), 9781846031175, 96pp.
Publication Date: April 24, 2007
* Individual store prices may vary.
or
Not Currently Available for Direct Purchase
Description
On 9 April 1940, German forces invaded Denmark, and then Norway, in an attempt to secure the vital mineral resources of Scandinavia for their war industry. This assault, Operation Weserubung, represents the first joint air-land-and-sea campaign in the history of warfare, and was the only such campaign planned, launched, and completed by the three services of the Wehrmacht. It also included the use of the rarest of German armoured vehicles, the Naubaufahrzeug NbFz.A/B (PzKw V/VI) experimental 'land battleship'.
This book describes the events of this tumultuous campaign of World War II (1939-1945) that not only led to Winston Churchill's appointment as British Prime Minister, but also saw the crippling of the German Kriegsmarine as a fighting force, as it was reduced to a fleet of submarines and a handful of heavy warships used as commerce raiders.
About the Author
Doug Dildy is a retired US Air Force (USAF) colonel who spent nine years in Western Europe. During this time he was temporarily stationed at Aalborg, Denmark, and B_d_, Norway, and thus has been able to personally examine the battlefield areas featured in this book. He is a USAF Academy graduate with a degree in history and has authored several campaign studies as part of his formal military education, and a number of historical articles, including ones on the Danish and Norwegian air arms' defense against the German invasion of 1940, for the amateur modeling magazine Small Air Forces Observer. The author lives in New Mexico, USA.
Advertisement