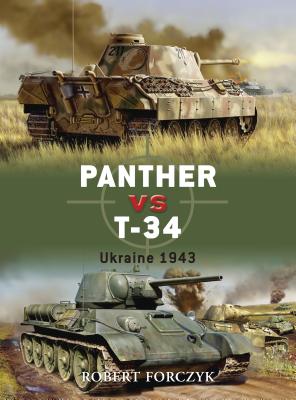 Panther vs. T-34 (Paperback)
Ukraine 1943 (Duel #4)
Osprey Publishing (UK), 9781846031496, 80pp.
Publication Date: October 23, 2007
Description
Robert A. Forczyk provides a riveting and intense description of the design and development of these two deadly opponents, the Panther and the T-34, analyzing their strengths and weaknesses and describing their tactics, weaponry and training. Moreover he gives an insight into the lives of the tank crews themselves, who were caught up in the largest land conflict of World War II, in some of the most important engagements in the history of warfare.
Innovative digital artwork and first-person perspectives place the reader in the midst of a duel between the titans of the Soviet and German armed forces in a ruthless and relentless death match that would determine the war on the Eastern Front and, indeed, the fate of Nazi Germany.
About the Author
Dr Robert A. Forczyk has a PhD in International Relations and National Security from the University of Maryland and a strong background in European and Asian military history. He is currently a lieutenant colonel in the US Army Reserves and has served 18 years as an armor officer in the US 2nd and 4th Infantry Divisions and as an intelligence officer in the 29th Infantry Division (Light). The author lives in Laurel, MD.
Praise For Panther vs. T-34: Ukraine 1943 (Duel #4)…
"...Robert Forczyk, a Ph.D. who served 18 years as an armor officer in the U.S. Army Reserve, concludes that the T-34's brilliantly simple, functional conception made it the better of the two... After providing technical details, [the] book discusses crew training and tactics, profiles one or two outstanding operators of each tank and then shows how they performed against one another in combat. Enhanced by photos and artwork, including views of the interiors and through the gun sights, the Duel series is sure to spark debate among Buffs." -Jon Guttman, Military History Magazine (January/February 2008)

"Robert Forczyk's Panther vs. T-34: Ukraine 1943 is a pick for any military library focusing on equipment and action. A blend of first-person perspectives and digital artwork chart the progress of the two greatest tanks of World War II." -The Bookwatch (December 2007)

"This work provides a welcome contrast to the usual praise surrounding the Panther, and it is one of the best Osprey Duel series titles to date." - Mark E. Stille, World War II Quarterly (Volume 4, Number 4, 2007)

"In all, a superb look at these two tanks and how well they operated in combat against each other. A book I can highly recommend for you." -Scott Van Aken, modelingmadness.com (November 2007)

"Overall, this is a good addition to Osprey's library... The text was compelling to read and caused me to reconsider my thoughts about both tanks." -tabletopgamingnews.com (October 2007)
Advertisement