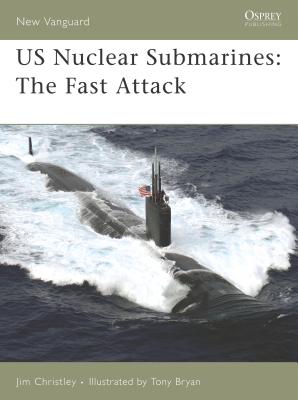 US Nuclear Submarines: The Fast Attack (Paperback)
The Fast Attack
Osprey Publishing (UK), 9781846031687, 48pp.
Publication Date: September 18, 2007
Description
"Silent but deadly" - Osprey's US Nuclear Submarines: The Fast-Attack takes a fresh look at the controversial design and development of the nuclear submarine of which the United States Navy operates the largest fleet in the world. The advent of nuclear power transformed the submarine from a slow underwater vessel, incapable of staying submerged for long periods, into a weapon of stealth and endurance.
Jim Christley, a former submariner, uses his own experience of serving aboard these vessels, and a wealth of technical information, to explore the many engineering issues and trade-offs, as well as the high risks of running a nuclear reactor at sea, which have dominated the intriguing story of the US nuclear submarine.
About the Author
Jim Christley retired from the US Navy in 1982 as a senior chief petty officer having served on seven submarines ranging from diesel to nuclear fast attacks to ballistic missile boats. A student of US submarine technical history, he has written numerous articles and a book on the subject in addition to providing technical illustrations to several notable books on submarine design and history. Jim is a resident of Lisbon, Connecticut. The author lives in Lisbon, CT.
Praise For US Nuclear Submarines: The Fast Attack…
"Blind Man's Bluff", and "The Hunt for Red October" immediatlely come into mind when fast attack nuclear submarine's are mentioned, and this new addition offers the reader a "fresh focus" on the design and development of one of modern warfare's most controversial weapons...Emphasis on pertinent details is prevalent throughout the text to provide the reader the maximum amount of explanation of the subject at hand...the author writes in a style that is both informative, and exciting, being an ex-submariner himself." -Mark R. Smith, Model Shipwrights (November 2007)

"Whether you are a long time fan of submarines or just learning about them, this is a book you will surely enjoy. It is one that I can readily recommend to you." -Scott Van Aken, modelingmadness.com (September 2007)
Advertisement