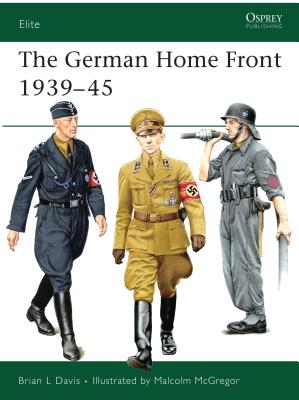 The German Home Front 1939-45 (Paperback)
Osprey Publishing (UK), 9781846031854, 64pp.
Publication Date: October 23, 2007
Description
Osprey's examination of Germany's home front situation during World War II (1939-1945). At the outbreak of war in 1939 Germany was committed to the concept of Blitzkrieg - a swift and decisive war. Yet, the reality became something very different as every corner of German society was hit by the realities of war.
This book details the critical civilian support that was necessary to maintain Nazi control of the civilian population and includes first-hand accounts of the experiences of civilians who suffered at the hands of their own government as well as enduring the deprivations and fears of wartime life. With analysis and descriptions of civil and home services, from air raid wardens to postwomen, this book provides a detailed, lavishly illustrated description of wartime life in Germany, exploring the tentacles of the Nazi state as they affected every man, woman and child.
About the Author
Brian L Davis is one of the world's leading experts on the insignia and regalia of Nazi Germany. For this volume he has extensively researched the minutiae of daily life during the Third Reich. His has previously published a three-volume series on the Flags of the Third Reich for the Osprey Men-at-Arms series. The author lives in Surrey, UK.
Praise For The German Home Front 1939-45…
"Brian L Davis' The German Home Front 1939-45 chronicles German civilian life during the war and the duties and challenges of living in a Nazi state..." -California Bookwatch (December 2007)

"Author Brian Davis takes what seems to be a very confusing mix of bureaucracies and makes sense of them... A truly interesting and somewhat unique look at warfare and the organization of the German state during the Second World War. Highly recommended." - Scott Van Aken, modelingmadness.com (October 2007)
Advertisement