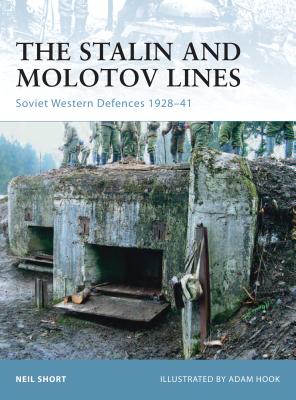 The Stalin and Molotov Lines: Soviet Western Defences 1928-41 (Paperback)
Soviet Western Defences 1928-41
Osprey Publishing (UK), 9781846031922, 64pp.
Publication Date: September 23, 2008
* Individual store prices may vary.
or
Not Currently Available for Direct Purchase
Description
During the Russian Civil War, the Red Army created a series of fortified areas, or ukreplinnyje rajony (UR), which were to be used not only for defence but were also to act as staging points for offensive operations. Following the end of the war these defences were extended, creating a front that stretched over 2,000km from the Baltic to the Black Sea, that consisted of more than 3,000 positions from forts to machine gun and antitank positions, emplaced tank turrets, and observation and command positions. By the outbreak of World War II, these defenses - known as the Stalin Line - were largely complete.
However, after the Soviet occupation of eastern Poland in October 1939 the Stalin Line was too far behind the new border to be of use as a springboard for an offensive. So, a new set of defenses was begun, named after the Soviet Foreign Minister, Molotov. Equipment was stripped from the Stalin Line, but only 25 percent of the positions had been completed by the time of the German invasion in June 1941 and it proved no match for the Wehrmacht - positions were mostly empty or simply bypassed during the advance. Illustrated with cutaway artwork and rare photographs this book provides a detailed examination of the development of these defensive lines, and the fighting that took place around them in 1941, and is packed with detail and information that is not readily available in the English.
About the Author
After completing an Honors Degree in History at the University of Lancaster, Neil Short gained a Master's Degree in Military History at the University of Leeds. He is a fully qualified Management Accountant working for the Ministry of Defence, but in his spare time undertakes research on World War II. He has previously written on Hitler's Siegfried Line in Sutton's Fortress Europe series; and for Osprey has written Fortress 15: Germany's West Wall and Fortress 45: German Defences in Italy. The author lives in Bristol, UK.
Praise For The Stalin and Molotov Lines: Soviet Western Defences 1928-41…
"Surveys World War I Soviet Western defenses, considering plans to build fortifications and analyzing Stalin's steps to remedy faults in defenses." -California Bookwatch, November 2008

"This book tells the story of these Soviet defensive systems, their design, construction, and combat history. With excellent illustrations, it describes the standard types of construction and the weapons they contained. The text is a model of clarity, which puts the complicated history into a coherent narrative, and the maps, while not numerous, are effective. The book closes with suggestions for places to visit remains of the Russian defenses. This is one of the best-written books in the series, and is highly recommended even to those unfamiliar with Soviet fortifications." -Bolling Smith, Coast Defense Journal (November 2008)

"Author Neil Short covers the design and development of these [sites], some of which were simply machine gun, some of which had artillery and some that used old tank turrets ... The book will be especially useful to the modeler who likes to do dioramas as there are a nearly unlimited number of possibilities shown in these pages." -Scott Van Aken, modelingmadness.com (September 2008)

"[This book] has more details and information than any other book on the topic written in English, German or French. The author includes a history of the development of both fortified lines and describes the types of structures used from machine positions to the forts that consisted of several combat blocks. The photos and drawings provide good detail on these fortifications along with maps showing the fortified sectors... Both the history buff, and those especially interested in fortifications, will want this book in their library." -J.E. Kaufmann (September 2008)
Advertisement