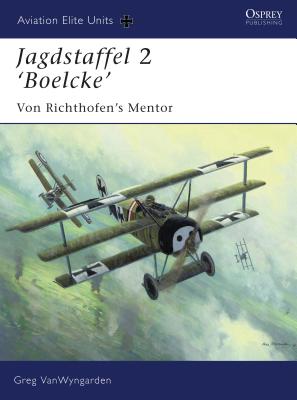 Jagdstaffel 2 Boelcke: Von Richthofen's Mentor (Paperback)
Von Richthofen's Mentor
Osprey Publishing, 9781846032035, 128pp.
Publication Date: November 20, 2007
* Individual store prices may vary.
or
Not Currently Available for Direct Purchase
Description
By August 1916, the German Air Service was fighting a losing struggle in the skies over the Battle of the Somme. Royal Flying Corps aircraft reigned almost supreme over the battlefront, and the vaunted Fokker monoplanes had been hounded from the air. In response, an entirely new type of fighting formation came into being - the Jagdstaffel, which was a unit designed solely as a fighting squadron. One of the first, and undoubtedly the most famous, was Jasta 2, formed and led by Germany's premiere fighter ace Oswald Boelcke. Renamed Jasta "Boelcke" by Imperial Decree, the unit would carry its first commander's legacy to spectacular success in late 1918.
This title examines the tactics, personalities and achievements of this ace squadron which finished the war with a record of 336 victories, second only to Richthofen's own unit in confirmed kills.
About the Author
A history teacher living in St Charles, Iowa, Greg VanWyngarden has had a lifelong interest in World War I aviation and has been particularly active in researching the colors and markings of German fighter aircraft. Greg has served on the Board of Directors of the League of World War I Aviation Historians and has been both art director and issue editor for that society's journal Over the Front. He is a long-time member of Cross & Cockade International, and has authored many articles in specialist publication and contributed to several monographs dealing with his favorite subject. This is his tenth book. The author lives in St Charles, Iowa.
Praise For Jagdstaffel 2 Boelcke: Von Richthofen's Mentor…
"Although he was eclipsed in notoriety and scoring by his famous student, Manfred van Richthofen, the fighter tactics and principles pioneered and first articulated by Oswald Boelcke have formed the basis for virtually every fighter training syllabus since WWI. The story of the pilots who carried on after Boelcke died is told here in a very personal and engaging fashion. This book cuts this great story by the unit rather than by aircraft type, and the associated Osprey WWI titles on German airplanes complement this story well. As far as I can tell, few (if any) of the color profiles were duplicated from the Aircraft of the Aces books." —Aerospace Modeler (January 2009)

"Jagdstaffel 2 'Boelcke" is a real triumph on several levels, not least because its text manages to provide not only a history of the illustrious unit, but also an impression of the lives and times of the pilots involved. Extracts from personal letters and unit reports provide a unique insight into the air war and into the mentalities of the men fighting it."- Scale Aircraft Modelling (August 2008)

"Any enthusiast of the first air war interested in comparing the facts with the legends will find Jagdstaffel 2 'Boelcke' a compelling as well as an informative read." -Jon Guttman, Aviation History (May 2008)

"Overall, 'Jagdstaffel 2 Boelcke' is readable, well-researched and never fails to entertain with historical insight and a fantastic array of photos. It is highly recommended." -Indysquadron.com (January 4, 2008)

"'There are dozens of excellent photos I have not seen before and, unlike Grub Street books, the photos are with the appropriate text, where they belong. I do not know how Greg finding all the real quotes and extractions from contemporary sources, but I am glad he does. I know he invests heavily in finding new photographs, and this clearly pays off in this new book...' Great information, newly published images, impressive aircraft profile schemes... Well done impressive and a great addition to anyone interested in the subject." -Stephen T Lawson, AeroScale (December 2007)

"The book is superbly illustrated with 125 photos (many new to this reviewer), mostly of good to excellent quality... VanWyngarden has produced another winner-as expected!" Barrett Tillman, The Aerodrome (December 2007)

"In addition to the unit's history, there are a number of superb period photos of the men and machines of Jagdstaffel 2... It is a book that is a 'must have' for any enthusiast of the 'Great War.'" -Scott Van Aken, modelingmadness.com (November 2007)
Advertisement