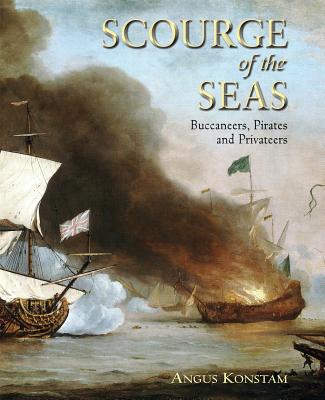 Scourge of the Seas: Buccaneers, Pirates & Privateers (Hardcover)
Buccaneers, Pirates & Privateers
Osprey Publishing, 9781846032110, 240pp.
Publication Date: March 27, 2007
* Individual store prices may vary.
or
Not Currently Available for Direct Purchase
Description
In their heyday, the sight of a pirate ship on the horizon would strike terror into the hearts of their intended victims. The colorful yet fearsome reputation of the pirate still resonates today and the sight of the skull and crossbones retains its thrilling power. The lives of the most famous of their brethren have been immortalized, initially in the pamphlets of the time, now in movies and books.
Telling the full story of piracy from the "buccaneering era" of the 17th century to the last great piratical wave of the early 19th century, this book explores the generally short and bloody life of the pirate, detailing his ship, weaponry, and codes of behaviour, as well as his most famous exploits. It is the gripping tale of the violent and deadly brigands who roamed the high seas in search of plunder.
About the Author
Angus Konstam hails from the Orkney Islands and is the author of over 20 books. Formerly the Curator of Weapons in the Royal Armouries at the Tower of London, he also served as the Chief Curator of the Mel Fisher Maritime Museum in Key West, Florida. Angus is now a full-time author and consultant and lives in Edinburgh. The author lives in Edinburgh, UK.
Praise For Scourge of the Seas: Buccaneers, Pirates & Privateers…
"Color illustrations, including some of Howard Pyle's paintings, and maps help bring this era of maritime piarcy to life... Scourge of the Seas is a worthy addition to any pirate library. It covers some topics often glossed over in other works and introduces reader to major players in each period." -Cindy Vallar, The Pyrates' Way, a Magazine for Pyrates (November 1, 2007)

"It is superbly illustrated with period artifacts, paintings and illustrations from contemporary as well as historical sources. If you never really thought about what these men were like, this book will provide an excellent reference into the lives and customs of some of the more interesting and blood-thirsty people in the history of the early Americas. A book I found fascinating and I'm sure you will as well." -Scott Van Aken, modelingmadness.com (July 2007)

"...covers not just events and personalities, but is packed with details about ships, weaponry, codes of behavior, and holds plenty of color photos throughout. A top pick for collections seeking more than a casual coverage." -The Bookwatch Midwest Book Review
Advertisement