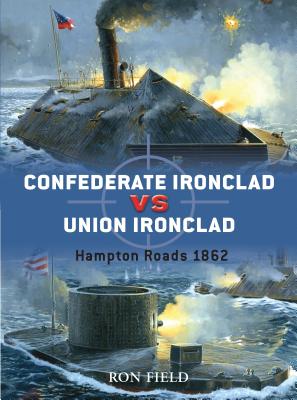 Confederate Ironclad vs. Union Ironclad: Hampton Roads 1862 (Paperback)
Hampton Roads 1862
Osprey Publishing (UK), 9781846032325, 80pp.
Publication Date: November 18, 2008
* Individual store prices may vary.
or
Not Currently Available for Direct Purchase
Description
The Ironclad was a revolutionary weapon of war. Although iron was used for protection in the Far East during the 16th century, it was the 19th century and the American Civil War that heralded the first modern armored self-propelled warships. With the parallel pressures of civil war and the industrial revolution, technology advanced at a breakneck speed. It was the South who first utilized ironclads as they attempted to protect their ports from the Northern blockade. Impressed with their superior resistance to fire and their ability to ram vulnerable wooden ships, the North began to develop its own rival fleet of ironclads. Eventually these two products of this first modern arms race dueled at the battle of Hampton Roads in a clash that would change the face of naval warfare.
Fully illustrated with cutting-edge digital artwork, rare photographs and first-person perspective gun sight views, this book allows the reader to discover the revolutionary and radically different designs of the two rival Ironclads - the CSS Virginia and USS Monitor - through an analysis of each ship's weaponry, ammunition and steerage. Compare the contrasting training of the crews and re-live the horrors of the battle at sea in a war which split a nation, communities and even families.
About the Author
Ron Field is Head of History at the Cotswold School in Bourton-on-the-Water. He was awarded a Fulbright Scholarship in 1982 and taught history at Piedmont High School in California from 1982 to 1983. He was associate editor of the Confederate Historical Society of Great Britain, from 1983 to 1992. He is an internationally acknowledged expert on US Civil War military history, and was elected a Fellow of the Company of Military Historians, based in Washington, DC, in 2005. The author lives in Cheltenham, UK.
Praise For Confederate Ironclad vs. Union Ironclad: Hampton Roads 1862…
"The strength of any Osprey book is the illustrations. This volume is no exception. The artwork and photographs are superbly reproduced... If you are looking for a concise, well illustrated history of the Battle at Hampton Roads and the history of the development of the ironclad warship, this is the book for you." - Mike Cavanaugh, Blue & Gray Magazine

"The Duel series follows a well planned and somewhat set design. There is a section on the design and development of the weapons, technical specifications, a look at the combatants involved and the strategic situation at the time of the event. Then the book gets into the combat itself and once that has been described goes into a statistical analysis of the event. This is followed by how the event may have altered future design and development. In this case, it covers some of the other ironclad vs ironclad battles, few though these actually were. Finally, there is a section on how the type was further developed, including post war use... an excellent read and one that I am confident you will enjoy as well. Highly recommended." -Scott Van Aken, modelingmadness.com (December 2008)
Advertisement