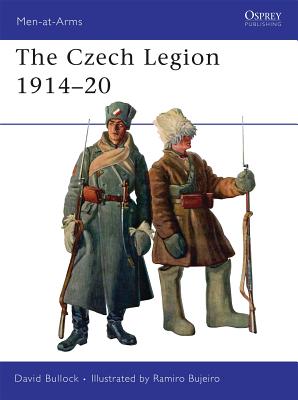 The Czech Legion, 1914-20 (Paperback)
Osprey Publishing (UK), 9781846032363, 48pp.
Publication Date: November 17, 2009
Description
The Czech Legion was not just a single military unit, but a volunteer army that fielded up to 100,000 troops on the Allied side on all three main fronts in World War I (1914-1918). Since only the defeat of Austro-Hungary and Germany offered any hope of Czech national independence, they were amongst the most motivated and steadfast of the Allied forces in France, the Italian Alps and Russia. In one of the most colorful and extraordinary episodes of the 20th century they fought their way across Russia in the aftermath of the Bolshevik Revolution, captured the Russian national gold reserves in Kazan, and used this as a bargaining chip to force the Bolsheviks to allow them to return home, in an epic journey closely followed by the Western press. The Legion played a central part in the foundation of the Czechoslovakian nation with the leaders of independent Czechoslovakia - Masaryk, Benes and Stefanik - all emerging from the Legion's ranks. Today the Legion is recognized as the founding fathers of Czech nationhood and are idolized by the US Czech community as a result.
About the Author
David Bullock holds a PhD in European Military History and has been an officer in the U.S. Air Force. Currently, he writes official histories as a military historian for the Department of Defense and is an adjunct Associate Professor at Colorado Technical University, Colorado Springs. He is the author of New Vanguard 83 Armored Units of the Russian Civil War: White and Allied and New Vanguard 95: Armored Units of the Russian Civil War: Red Army. The author lives in Colorado Springs, Colorado.
Praise For The Czech Legion, 1914-20…
"The Czech Legion was not just a single military unit, but a volunteer army that fielded up to 100,000 troops on the Allied side on the three major fronts of the war. Since only the defeat of Austro-Hungary and Germany offered any hope of Czech national independence, they were amongst the most motivated and steadfast of the Allied forces." -Game Trade Magazine (April 2008)

"It is the story of men that was heavily suppressed while Czechoslovakia was under first Nazi and later communist rule. A fascinating read and a book I can highly recommend to you." -Scott Van Aken, Modeling Madness/modelingmadness.com (December 2009)
Advertisement