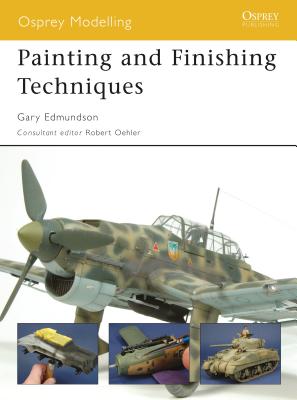 Painting and Finishing Techniques (Paperback)
Osprey Publishing (UK), 9781846032639, 80pp.
Publication Date: April 20, 2010
Description
Although many modelers can master the basic techniques of construction, it is with the painting and finishing of their kits that many begin to struggle. It is this skill that gives the model its distinctive look and feel and separates the good model form the truly great one. This title will present a detailed, step-by-step approach to addressing the difficulties involved in creating realistic, colorful finishes to armor and aviation models using a variety of different media and techniques. The book swill be aimed at both the beginner and the intermediate modeler looking to improve their skills and, through clear text and photography will give a chapter-by chapter guide to the subject. Each stage will deal with a particular element of the painting and finishing process, whether it be creating camouflage schemes or dealing with markings and decals, to build into a comprehensive study of the subject. Relevant tools and materials will be included in sidebars, whilst a Gallery feature will highlight the range of color schemes and finishes available throughout the world of military and aviation modeling.
About the Author
Gary Edmundson was born in Sunderland in 1956. At the age of ten he emigrated with his family to Canada. He is currently settled in Fort Saskatchewan, working in the chemical industry as an analyser technician. An interest in military aviation led to building military models for a hobby and Gary is now a regular contributor to military modeling magazines.
Praise For Painting and Finishing Techniques…
"Typical of Osprey's books for military miniature enthusiasts and wargaming hobbyists, this book offers several full color plates and illustrations, and is chock full of tips, advice, and lessons learned from some of the finest painters of military miniatures, model airplanes & tanks, vehicles, etc. It goes through set-up, tools, work spaces, painting tips, weathering, dry brushing, detailing, highlighting, shading and various other tips that are of great value to the novice painter, and even can help more experienced veteran painters and modelers. Well worth a look if you are into model military machines." -Charge! Civil War Wargaming

"Painting and Finishing Techniques provides a detailed step-by-step approach to creating realistic, colorful finishes to armor and aviation models using a variety of different media and techniques.  The book is aimed at both the beginner and intermediate modeler who is looking to improve their skills.  Through clear text and photography, each chapter presents a guide to this interesting subject... This is another excellent book in the Osprey Modeling Series that will make an excellent addition to the model builders reference collection." - Mataka.org
Advertisement