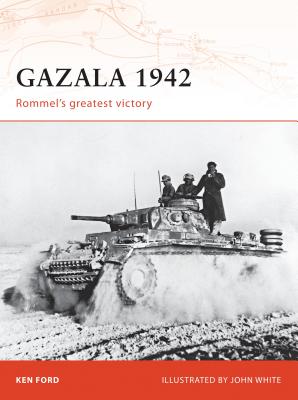 Gazala 1942: Rommel's Greatest Victory (Paperback)
Rommel's Greatest Victory
Osprey Publishing (UK), 9781846032646, 96pp.
Publication Date: May 20, 2008
* Individual store prices may vary.
or
Not Currently Available for Direct Purchase
Description
Gazala was Rommel's greatest victory in World War II (1939-1945). After a period of stalemate in the desert war, during which both the British Eighth Army and the Afrika Korps had rested and regrouped, he carried out a daring flanking movement around the strong Allied defensive position. The British command could not match Rommel's masterly co-ordination of armor, artillery and infantry, even when encircled in an area that became known as "the Cauldron," and his outstanding generalship and a timely break-through by his Italian troops enabled him to win a clear victory after 16 days of fierce fighting. However, although the strategically important town of Tobruk quickly fell, Gazala was actually a high-water mark and failure to break the British at Alam Halfa two months later was followed by defeat for the over-extended Afrika Korps by the greatly strengthened Eighth Army at El Alamein.
In this important addition to the Campaign series' coverage of the North African desert war, regular contributor Ken Ford vividly portrays the "Desert Fox" at the height of his powers.
About the Author
Ken Ford was born in Hampshire in 1943. He trained as an engineer and spent almost thirty years in the telecommunications industry before a change in career led him to become a full time military historian. He is the author of over twenty books on various aspects of World War II including Campaign 158 El Alamein. Ken now lives in Southampton, UK. The author lives in Southampton, UK.John White is a commercial illustrator with many years' experience of working with advertising agencies, design firms, publishers and large corporate accounts. He has received awards from The Broadcast Design Association and The National Naval Aviation Museum, and his paintings have appeared in Aviation Art magazine, Aviation History magazine, and on the History Channel. John White lives in Charlotte, North Carolina.
Praise For Gazala 1942: Rommel's Greatest Victory…
"Ford's book is a brief but masterful study of Rommel at the height of his power as he swept the British Eighth Army back to the site of their decisive stand at El Alamein." -World War II History (March 2009)

"Ken Ford's Gazala 1942: Rommel's Greatest Victory provides an in-depth, technical survey of the Rommel military campaign and battle experiences, studying him at the height of his powers and surveying his strategy. Color maps and vintage black and white photos throughout enhance a moving account." -The Bookwatch (September 2008)

"The author covers the usual sections of a book in Osprey's Campaign series. It has a build up to the battle, a look at opposing commanders and their armies. Then it covers both the Allied and German plans at the time before going into the battle itself. This part consumes much of the book and provides significant detail of each day of the fighting. This is all followed by the results of the battle and how it affected future actions, which in the desert war, often resulted in major change."- Scott Van Aken, modelingmadness.com (July 2008)
Advertisement