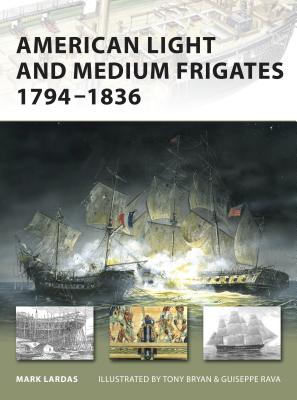 American Light and Medium Frigates, 1794-1836 (Paperback)
Osprey Publishing (UK), 9781846032660, 48pp.
Publication Date: August 19, 2008
* Individual store prices may vary.
or
Not Currently Available for Direct Purchase
Description
The "Original Six" frigates were commissioned by the new-born US Navy at a staggering cost of $688,888.82. Designed to be light and fast, these warships enabled America to project its power across the globe. Among the ships Mark Lardas examines is USS Constellation: the first ship to be commissioned by the United States Navy, and also the first ship to engage and capture an enemy vessel, the French L'Insurgente - this engagement is vividly portrayed in original color artwork. The fascinating history of the USS Chesapeake is also brought to life through the dramatic account one of the bloodiest duels in the age of fighting sail as the Chesapeake meets the British frigate Shannon and is overwhelmed, the dying cry of the captain, "Don't give up the ship " inspired the US Navy thereafter. Alongside stirring accounts of engagements during the Barbary Wars and the Quasi-War, the author explores the design and development of these frigates, explaining the shortcomings that led to their replacement by larger, heavier 44-gun models by 1800. Contemporary illustrations of US frigates and their British and French rivals help to place these ships in the context of European ship design, clearly showing the escalation of the naval 'arms race' during the seventeenth century. American Light and Medium Frigates is an ideal resource for any naval enthusiast wanting to learn more about the ships that witnessed the rise of the US Navy and Marines.
About the Author
Mark Lardas holds a degree in Naval Architecture and Marine Engineering. An amateur historian and a long-time ship modeler, Mark Lardas has written extensively about modeling as well as naval, maritime, and military history. Among his titles for Osprey are: NVG79 American Heavy Frigates. The author lives in League City, Texas.Tony Bryan is a freelance illustrator of many years' experience who lives and works in Dorset. He initially qualified in Engineering and worked for a number of years in Military Research and Development, and has a keen interest in military hardware - armor, small arms, aircraft and ships. Tony has produced many illustrations for partworks, magazines and books, including a number of titles in the New Vanguard series. Tony Bryan lives in Dorset, UK.
Praise For American Light and Medium Frigates, 1794-1836…
"The full history and design of these interesting ships is covered in this volume. It is superbly illustrated by period works as well as by the artists chosen by Osprey for this title. It is an excellent book on a most interesting subject and one that I am positive you will find to be of interest. One that will be pulled from the shelves time after time and one I can highly recommend to you." -Scott Van Aken, Modeling Madness (September 2008)
Advertisement