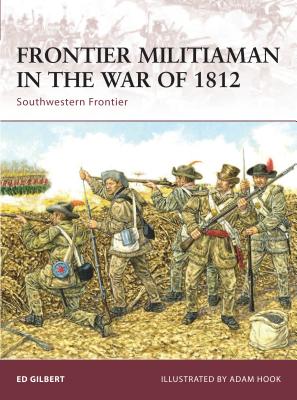 Frontier Militiaman in the War of 1812: Southwestern Frontier (Paperback)
Southwestern Frontier
Osprey Publishing (UK), 9781846032752, 64pp.
Publication Date: September 23, 2008
Description
"He who relies on militia leans upon a broken cane." (George Washington)
Osprey's survey of militiamen of the War of 1812. The great military effectiveness of semi-trained local militia is one of the enduring myths of American military history. In this book Ed Gilbert reveals the truth behind this myth. Quoting from memoirs of men like Sam Dale, Sam Houston, and rare histories, he sheds light on who these frontier men actually were. He chronicles how militiamen, ranging from hard-working farmers to politicians like Davy Crockett, were transformed through hard campaigning, fierce combat, and Andrew Jackson's equally fierce discipline, into a formidable fighting force.
Contemporary illustrations and artwork depict the rough life on campaign and the uniforms worn by the militia. He details how they fought and won the crucial battle of Horseshoe Bend, and how finally on the swampy Plains of Chalmette a scratch force of State Militias, Federal Regulars, US Marines, and Jean Lafitte's mercenary pirates inflicted a stunning defeat on General Pakenham's forces, opening up the western frontier for the new nation.
About the Author
Ed Gilbert was a Marine artilleryman and a Battalion Training NCO in the Marine Corps Reserve. He holds a Ph.D. in geology, and is now a geologist and geophysicist involved in petroleum exploration in South Asia, the Middle East, Africa and South America. Ed has written for hobby, historical, and veteran's magazines, and is the author of operational histories of the Marine Corps' armored units in World War II and the Korean War. He is currently at work on a history of the Marine Corps tank battalions in the Vietnam conflict. The author lives in Katy, Texas.
Praise For Frontier Militiaman in the War of 1812: Southwestern Frontier…
"[Frontier Militaiman] surveys ... the actions of untrained men who formed militia forces worthy of historical mention." -California Bookwatch, November 2008

"Ed Gilbert has done a grand job of telling the story of these often forgotten men...Add to it contemporary illustrations with the artwork of Adam Hook, and you have a superlative book on a subject that I found particularly fascinating. I'm positive you will feel the same way once you read this so put the grabs on this title when you come across it at your local shop. You'll find it to be a major myth-buster." -Scott Van Aken, www.modelingmadness.com (April 2009)
Advertisement