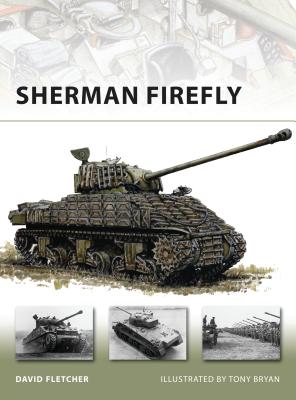 Sherman Firefly (Paperback)
Osprey Publishing (UK), 9781846032776, 48pp.
Publication Date: February 19, 2008
Description
The most powerfully gunned tank fielded by the Allies during World War II was the Sherman Firefly. An ordinary American-built Sherman modified by the British, the Firefly had the firepower that could finally match the awesome German tanks that had dominated Europe. David Fletcher examines the controversy that dogged the Firefly and the psychological boost the tank provided to Allied forces. Exploring its successes and failures on the battlefield and providing a realistic assessment of the tank's worth, this is essential reading for anyone wanting to know the facts about a tank variant that quickly developed its own mythology.
About the Author
David Fletcher was born in 1942. He has written a number of books and articles on military subjects and is currently the historian at the Tank Museum, Bovington, UK. He has spent over 40 years studying the development of British armored vehicles during the two World Wars. The author lives in Dorset, UK..
Praise For Sherman Firefly…
"The Firefly was arguably the best WW2 tank of the Western allies to be produced in quantity, as far as anti-tank performance was concerned... All [of its production history] is described here and so is the Firefly's combat use, as well as interesting sidelights such as the use of Fireflies for concrete-busting attack on bunkers and Firefly production for the US Army. Very highly recommended." -John Prigent, Internet Modeler (March 2008)

"This book is without a doubt an Osprey book. Like others in Osprey's catalog, detailed cutaway illustration and a rich collection of photographs make this book a treasure for armor enthusiasts, modelers, and anyone who is interested in the ground war in Europe... David Fletcher's Sherman Firefly is a great addition as a reference book in the World War II Database library. Like tanks? Definitely check it out." -C. Peter Chen, World War II Database (March 16, 2008)

"Fletcher's writing style is perhaps unusual...but his content is outstanding. He offers a thorough look at the history of the Firefly. As with all Osprey books, this one is profusely illistrated with period photographs...and lavish full-color...drawings and sketches... All in all, I recommend this book to anyone interested in WWII British or American tanks." -Scott Mingus, Charge! (February 21, 2008)

"Overall, an excellent reference into this important British tank and one that you should get for your library." -Scott Van Aken, modelingmadness.com (February 2008)
Advertisement