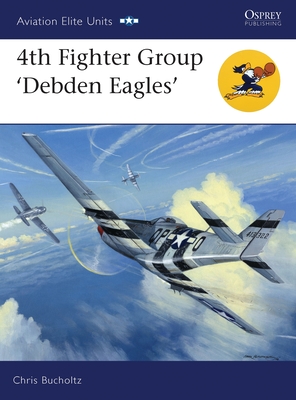 4th Fighter Group - Debden Eagles (Paperback)
Osprey Publishing, 9781846033216, 128pp.
Publication Date: November 18, 2008
* Individual store prices may vary.
or
Not Currently Available for Direct Purchase
Description
Formed around a nucleus of pilots already seasoned by their experience as volunteers in the RAF's Eagle Squadrons, the 4th Fighter Group was established in England in October 1942. Initially flying Spitfires, the Debden Eagles went on to fly the P-47 and P-51, becoming in July 1943, the first Eighth Air Force fighter group to penetrate German air space. The group's record of 583 air and 469 ground victories was unmatched in the Eighth Air Force, and the group produced a cast of characters that included legendary aces Don Blakeslee, Pierce McKennon, 'Kid' Hofer, Duane Beeson, Steve Pisanos and Howard Hively.
While primarily a bomber escort group, the 4th also played roles in supporting the D-Day landings, Operation Market Garden, the Battle of the Bulge and the crossing of the Rhine. The group's achievements came at a price, however, for 248 aircraft were lost in combat, with 125 pilots killed in action and 105 being taken prisoner - a 42 percent casualty rate. Packed with first hand accounts, detailed aircraft profiles and full combat histories, this book is an intriguing insight into the best-known American fighter unit in World War 2.
About the Author
Chris Bucholtz spent six years in the navy before starting a journalism career that has spanned the gamut from rock music critic to scientific journal editor. Most recently, he's worked as the editor in chief of Forecasting Clouds, a website specializing in helping small business understand business software. At the same time, he's built a parallel career as an aviation historian and noted scale modeler, editing the U.S. branch of the International Plastic Modeling Society's Journal and contributing articles to such magazines as Flight Journal and Air Enthusiast. He's also the aviation editor of Internet Modeler (www.internetmodeler.com), where his long-form "Pilot and His Plane" series serves to tie together history and the hobby.
Praise For 4th Fighter Group - Debden Eagles…
"4th Fighter Group Debden Eagles by Chris Bucholtz...[is] among the latest releases from Osprey in their "Aviation Elite Units" series. Priced at $25.95 each, the book follows the typical Osprey format of supplying lots of good information and photos along with numerous color profile drawings. The Debden Eagles...is a good concise look at the Group." -JT, Air Classics (June 2009)

"In his book on the 4th Fighter Group, author Chris Bucholtz takes us through the formation and eventual success of one of the USAAF's premiere fighter groups and the famous pilots that were part of it. Names like Beeson, Gentile, Blakeslee, Hofner, Godfrey and others have become well known to enthusiasts as well they should. Here are the stories of some of their most memorable feats and some of their disasters as well. All of this is superbly illustrated with period photographs of the men and their machines as well as the profiles of artist Chris Davey. Here is a book about some of the best in the USAAF during that time. A book that is a great read and one that I can most highly recommend to you." -Scott Van Aken, modelingmadness.com (December 2008)
Advertisement