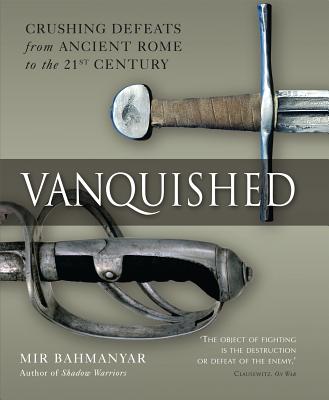 Vanquished (Hardcover)
Crushing Defeats from Ancient Rome to the 21st Century
Osprey Publishing (UK), 9781846033278, 320pp.
Publication Date: November 17, 2009
* Individual store prices may vary.
Description
Throughout time, violent battles and bloody clashes have changed the course of history and shaped nations or empires. Battles of annihilation are rare, but ever since antiquity a stunning victory on the battlefield, even if it has failed to win the war, has captured the imagination of many. The battle of Cannae in 216BC, where Hannibal destroyed an entire Roman army, has become legend, inspiring generations of military thinkers to discuss and imitate this feat. Usually written off as incidents of luck, some argue that it is not possible to completely destroy the enemy, although historic engagements have proved that annihilating the opponent can be achieved, at least on a tactical level. In this book Mir Bahmanyar examines battles of annihilation throughout history, some well known, others less so, but all equally extraordinary, to discover what sets these engagements apart, whether they achieve a decisive strategic advantage in war, and why there are fewer battles of annihilation in modern times.
About the Author
Mir Bahmanyar received his BA in History from the University of California at Berkeley. Subsequently, he joined the US Army, serving with the 2d Battalion, 75th Ranger Regiment as a machine-gunner and training non-commissioned officer. Mir also created www.suasponte.com, a website chronicling the history of the American Ranger. He is a feature film producer and screenwriter, recently completing the film Soldier of God (www.soldierofgod.net). He lives in Los Angeles. The author lives in Los Angeles, CA.
Praise For Vanquished: Crushing Defeats from Ancient Rome to the 21st Century…
"One might think that military history would be punctuated with countless one-sided defeats, but "few battles of annihilation have been fought since the middle of the 20th century," observes Bahmanyer, and "annihilation" now comes mostly in the form of actions against unarmed civilians. Ironically, several of the glorious victories addressed in this book—like Little Big Horn (1876), where Sioux and Cheyenne Indians wiped out the 7th Cavalry under Lieutenant Colonel George Armstrong Custer—only seemed to hasten the ultimate defeat of the victors. And in some cases, an army's defeat—the Prussian Army's failure at Jena-Auerstädt (1806), for example—led to reforms that helped it become one of the most feared military machines of the later 19th and early 20th centuries.

At the end of the book, Bahmanyer attempts to explain why modern warfare creates few opportunities for decisive encounters, placing the blame in part on "the removal of leadership from the battlefield" and "the trend in modern times to direct and wage war from a distance." Yet even after thousands of years of fighting, one thing hasn't changed: there is still no formula that ensures military success. "Systems, simulations, science, and studies are of course all very valuable, but not defining in and by themselves," begins Bahmanyer. "War is uncontrollable once unleashed." -Jason Zasky, Failure Magazine/failuremag.com (December 2009)

"Mir Bahmanyar's Vanquished: Crushing Defeats from Ancient Rome to the 21st Century offers a fine survey of battles of annihilation from ancient Rome to modern times, where defeats often elicited such a strong response that it led to the victors' downfall. Major defeats from Cannae to the 21st century Iran are analyzed for similarities and strategic insight perfect for any military collection." -The Bookwatch (January 2010)
or
Not Currently Available for Direct Purchase