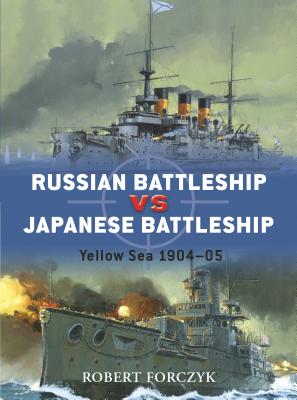 Russian Battleship Vs Japanese Battleship: Yellow Sea 1904-05 (Paperback)
Yellow Sea 1904-05
Osprey Publishing (UK), 9781846033308, 80pp.
Publication Date: February 17, 2009
* Individual store prices may vary.
or
Not Currently Available for Direct Purchase
Description
The first major clash between a European and Asian state in the modern era signalled the beginning of Japan's rise as a major power on the world stage. What began as differing expansionist interests in Manchuria and Korea developed into a full-blown war in 1904, with an unexpected outcome. Watched by the rest of the world's superpowers, this incredibly violent war was disastrous for the Russians who, despite their superior numbers, were defeated by the Japanese underdogs in a spectacular fashion. Japan won major victories against the Russians including the critical naval battle of Tsushima in May 1905 which saw almost the entire Russian fleet sunk, captured or interned. This was the first and last encounter of pre-dreadnought battleships and it was a huge success for Japanese tactics, skill and planning. This book discusses the design and development of the pre-dreadnoughts that would ultimately lead to a new wave of battleships. The key technical elements of firepower, protection, maneuverability and communications for each side are covered in detail and accompanied by first-hand accounts and specially commissioned artwork to explain and illustrate this historically significant duel.
About the Author
Dr. Robert A. Forczyk has a PhD in International Relations and National Security from the University of Maryland and a strong background in European and Asian military history. He is currently a lieutenant colonel in the US Army Reserves and has served 18 years as an armor officer in the US 2nd and 4th Infantry Divisions and as an intelligence officer in the 29th Infantry Division (Light). This is his second title in the Duel series.
Praise For Russian Battleship Vs Japanese Battleship: Yellow Sea 1904-05…
"Forczyk not only provides a detailed narrative of the naval battles and how the Japanese bested the Russians (overwhelmingly so in the Battle of Tsushima), but he also includes an in-depth analysis of the competing battleship designs and ideas (including gun, communication, and armor development). For example, he looks at the British and French designs for battleship design (these two countries were the leaders in design at the time) and how those designs influenced the outcome of the war...For anyone interested in the late 1800s and early 1900s international battleship development race, this book is an excellent resource." -Jeff Grim, www.collectedmiscellany.com (May 2009)

"This book analyzes the variety of weaponry used by both sides during this conflict as well as the differences in ship design that helped to play a role in the outcome. It also looks at the leadership and training of the crews on both sides of the war. It is probably this aspect as much as any that determined the outcome. Author Robert Forczyk does a superlative job of telling this story and all the aspects of the battles. This is all further enhanced by quality period photographs as well as superb illustrations and little vignettes from the diaries of those who participated in the various events of the times. In all, an excellent addition to what has become a popular series." -Scott Van Aken, modelingmadness.com (February 2009)
Advertisement