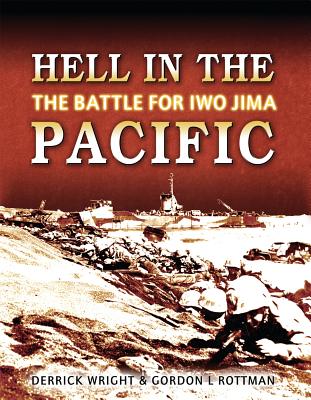 Hell in the Pacific: The Battle for Iwo Jima (Hardcover)
The Battle for Iwo Jima
Osprey Publishing (UK), 9781846033353, 224pp.
Publication Date: May 20, 2008
* Individual store prices may vary.
or
Not Currently Available for Direct Purchase
Description
The battle of Iwo Jima was extraordinary for its ferocity. US Marine Corps casualties exceeded by thousands the number of Japanese defenders, who fought almost to the last man over those five desperate weeks. The strategic justification for the mission has been challenged and the iconic photograph of the flag-raising was staged, but there is no questioning the courage displayed (winning the USMC 24 Medals of Honor) and the horrors endured by both sides. The Japanese were dug into a vast and complex defensive network of trenches, bunkers, caves and tunnels commanding every square foot of the island's volcanic rock and black sand. The Marines' task was to fight almost every step of the way from their landing beaches to the northern tip where victory was finally secured, developing new tactics to deal with this well-entrenched, determined and heavily-armed resistance as they progressed from objective to objective.
This book details the composition, weaponry and leadership of the opposing forces and reviews their plans. It also closely examines the individual fighting men on each side, the USMC infantryman and the Imperial Japanese soldier, contrasting their training, equipment, culture and battlefield experiences. Having laid out the background, the authors then follow the battle through its several phases from the landings to General Kuribayashi's last banzai. Their clear narrative, supported by numerous maps, tactical diagrams and photographs, answers in detail the question which other accounts of this great battle only address at a more general level: how did the Marines do it?
About the Author
Derrick Wright's interest in the Second World War was sparked by his childhood in the Teeside area which was subjected to many bombing raids, After national Service with the Army, he became an engineer specializing in Ultrasonics.Gordon L Rottman entered the US Army in 1967, volunteered for Special Forces and completed training as a weapons specialist. He served in the 5th Special Forces Group in Vietnam in 1969-70 and subsequently in airborne infantry, long-range patrol and intelligence assignments until retiring after 26 years. He was a special operations forces scenario writer at the Joint Readiness Training Center for 12 years and is now a freelance writer, living in Texas.
Praise For Hell in the Pacific: The Battle for Iwo Jima…
" A handsome, hardcover volume with dozens of photos, color illustrations, maps, and four appendices, Hell in the Pacific is a superb achievement that is unlikely to be surpassed but is likely to be regarded as the definitive account of that costly and heroic battle. Highly recommended."-Mason B. Webb, WWII History (November 2008)
"Hell In The Pacific: The Battle fo IWO Jima provides detailed information of what really happened on the island in February & March 1945. Its analysis ranges from the harrowing realities of combat for the individual soldier to the high-level strategic decision making of U.S. & Japanese leaders." -NeoPropRealism (May 2008)
Advertisement