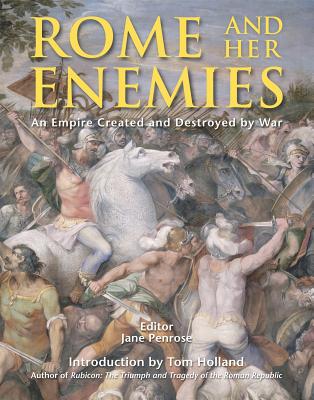 Rome and Her Enemies (Paperback)
An Empire Created and Destroyed by War
Osprey Publishing, 9781846033360, 304pp.
Publication Date: February 19, 2008
Other Editions of This Title:
Hardcover (10/10/2005)
* Individual store prices may vary.
Description
Spanning over a thousand years and an immense geographical area, the Roman Empire was the greatest in world history. At its most powerful, the Empire cast a shadow across the known world, and its legacy continues to influence politics, art and culture around the world today. Rome's power was won on the battlefield, and the greatness of the Empire is reflected in the warlike reputations of the enemies it subdued. Hannibal and the Carthaginians, Mithridates, the Gauls, the Sassanid Persians and the infamous Gothsand Huns are amongst the forces that battled the might of Rome. Rome and Her Enemies juxtaposes the society and military structure of each of these peoples with those of the contemporary Roman army. It is divided into four chronological sections focusing on all the major wars and battles. It is lavishly illustrated throughout, and color photographs, artwork and maps support the text to provide a comprehensive introduction to the rise and fall of an empire created and destroyed by war.
Introduction by Tom Holland, bestselling author of "Persian Fire" and "Rubicon.
About the Author
An Oxford history graduate, Jane Penrose has published historical books for 10 years. She recently edited the highly acclaimed D-Day companion for Osprey Publishing. Jane lives and works in Norfolk, England.ForewordEducated at Cambridge and Oxford, Tom Holland is an acclaimed author of both fiction and non-fiction, who has written widely on the ancient world. He has adapted Homer, Herodotus, Thucydides and Virgil for BBC Radio, and is the author of Rubicon: The Triumph and Tragedy of the Roman Republic (2003), praised by A. N. Wilson as 'A brilliant and completely absorbing study', and Persian Fire: The First World Empire and the battle for the West (2006). The author lives in Norfolk, UK.
or
Not Currently Available for Direct Purchase