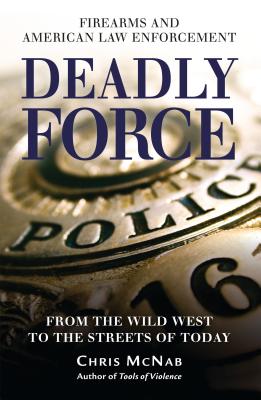 Deadly Force: Firearms and American Law Enforcement from the Wild West to the Streets of Today (Paperback)
Firearms and American Law Enforcement from the Wild West to the Streets of Today
Osprey Publishing (UK), 9781846033766, 312pp.
Publication Date: September 29, 2009
* Individual store prices may vary.
or
Not Currently Available for Direct Purchase
Description
Almost every movie of a police shootout includes the following depiction of violence: good guy shoots bad guy; bad guy instantly drops dead. But the reality is that when someone is hit by a bullet, or even several bullets, this rarely happens. What does happen when someone is shot? How effective is the use of hand guns? Why are so many shots fired at a shootout? Why don't officers shoot a gun out of an assailant's hands, or shoot him in the leg instead of killing him? What is it really like for an officer to pull his gun and fire?
In this book, Chris McNab, author of Tools of Violence and The Special Forces Survival Guide, analyzes the use of lethal force in the control of crime in the United States from the Civil War to the present day.
Covering incidents from the shooting of Bonnie and Clyde to the Waco Seige, and the actions of gunmen from Wild Bill Hickok to modern SWAT teams, he answers these questions and examines the history of armed response and those who in enforcing law face making life and death choices in a few, traumatic seconds.
About the Author
Chris McNab is an author and editor. To date he has published over 25 books, including Twentieth-Century Small Arms (2001), Gunfighters - The outlaws and their weapons (2005, contributing editor), The Personal Security Handbook (2003), The Encyclopedia of Combat Techniques (2002) and The Illustrated History of the Vietnam War (2000), and is the co-author of the Osprey publication Tools of Violence (2008). He has also written extensively for major encyclopedia series, including African-American Biographies (2006), USA 1950s (2006) and Reformation, Exploration and Empire (2005), and has contributed to The Times on the war in Iraq. The author lives in Neath, Wales.
Praise For Deadly Force: Firearms and American Law Enforcement from the Wild West to the Streets of Today…
"The book is fascinating, a nicely paced mixture of events and analyses. It will have wide appeal, and is a reminder that policing can be very dangerous." - P.T. Smith, Choice Magazine (April 2010)
Advertisement