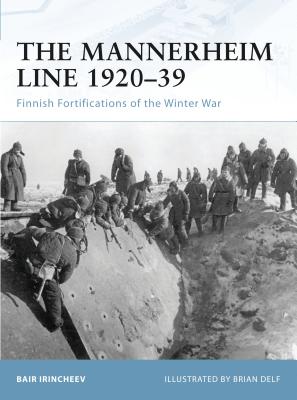 The Mannerheim Line 1920-39: Finnish Fortifications of the Winter War (Paperback)
Finnish Fortifications of the Winter War
Osprey Publishing (UK), 9781846033841, 64pp.
Publication Date: September 22, 2009
Description
In the wake of the bloody civil war that followed Finland's independence from Russia in 1917, the border between the two countries was established across the Karelian Isthmus, an area long fought over by Russia, Finland and Sweden in their attempts to dominate the northern tip of Europe. Neither the Soviets nor the Finnish were comfortable with such a divide, which provided an open route for a potential invader to Helsinki on the Finnish side, and was only 32km from the important military and industrial city of Petrograd in Russia. As such, both sides began an intensive period of fortification and defensive planning. As the Winter War broke out in November 1939, the complex and heavily defended Mannerheim Line suffered intense bombardment and armored assaults. The armistice of May 1940 saw Finland cede control of the entire Karelian Isthmus to the USSR however, and a propaganda war ensued; the Russians emphasizing the strength of the line, and the Finnish downplaying its importance, accentuating instead the heroism and bravery of the common Finnish soldier.
Through a detailed analysis of the background, design and operational history of the Mannerheim Line, Bair Irincheev attempts to dispel such myths and provide an accurate assessment of its immense historical importance.
About the Author
Bair Irincheev was born in 1977 in St. Petersburg, Russia. He is a keen re-enactor of the Winter War, and has created a website documenting the fortifications of the Mannerheim Line (www.mannerheim-line.com). Bair runs his own travel company, which organizes tours of military sites in the former Soviet Union and Finland. He is married, and lives in Helsinki, Finland. The author lives in Helsinki, Iceland.
Praise For The Mannerheim Line 1920-39: Finnish Fortifications of the Winter War…
"This is the only book in English devoted to the Mannerheim Line, which also makes it the best.   Some excellent drawings are included, but following up with the author's internet site is recommended." - JE Kaufmann, Site-O / siteo.net (January 2010)

"This is all superbly illustrated by Brian Delf, giving us a look at how these forts developed and were sustained. Add in a fine collection of  photographs of the extant sites as well as period photographs, and you have an excellent book on a subject that is both historically significant and fascinating to read. It is one I can highly recommend." - Scott Van Aken, Modeling Madness (November 2009)

"This interesting book by an author well familiar with the subject is recommended to those interested in 20th century fortifications." -Bolling Smith, Coast Defense Journal (March 2010)
Advertisement