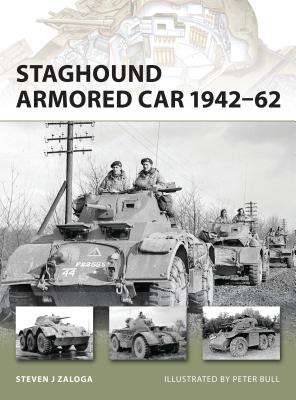 Staghound Armored Car 1942-62 (Paperback)
Osprey Publishing (UK), 9781846033926, 48pp.
Publication Date: August 18, 2009
Description
The Staghound was a unique World War II armored vehicle - designed and manufactured in the US, but intended solely for the British army. This book examines the development of this category of armored cars and offers a detailed analysis of the extensive combat use of the Staghound in British service as well as in the service of other Allied countries including Canada, New Zealand and Poland. Usually armed with a 37mm gun, it weighed 12 tons and could reach speeds of 55mph carrying a crew of five. Since its combat debut in Italy in 1943 until the end of the war it had performed particularly valuable service in a reconnaissance role where its speed and armor ensured that it was able to extricate itself from trouble as required without additional support. The book also includes a brief description of post-war use from NATO countries including Denmark to far-off battlefields such as Lebanon providing a comprehensive and accessible coverage of a vehicle that is particularly popular with private collectors.
About the Author
Steven J. Zaloga received his BA in history from Union College and his MA from Columbia University. He has worked as an analyst in the aerospace industry for over two decades, covering missile systems and the international arms trade, and has served with the Institute for Defense Analyses, a federal think-tank. He is the author of numerous books on military technology and military history, with an accent on the US Army in World War II as well as Russia and the former Soviet Union.
Praise For Staghound Armored Car 1942-62…
"Author Steven J. Zaloga is widely acknowledged as one of the foremost authorities on armor and has put his expertise to use in this book. Each type of vehicle as well as its development history is well covered and his writing style makes for interesting reading. When you add to it the quality period photographs and the superb artwork of illustrator Peter Bull, you have an excellent quick reference on a most intriguing subject. It is a book that I can most highly recommend to the enthusiast and modeler alike." - Scott Van Aken, Modeling Madness (October 2009)

"Steven Zaloga knows what details that modeler's will find helpful and the photographs and text concerning the variants and combat are interesting...Overall a worthwhile volume and a good resource for those with a few Staghounds in the closet, I recommend it!" - Chris Durden, IPMS/USA (December 2009) 
Advertisement