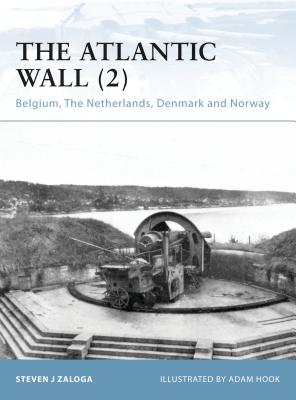 The Atlantic Wall (2): Belgium, the Netherlands, Denmark and Norway (Paperback)
Belgium, the Netherlands, Denmark and Norway
Osprey Publishing (UK), 9781846033933, 64pp.
Publication Date: November 17, 2009
* Individual store prices may vary.
or
Not Currently Available for Direct Purchase
Description
Germany's Atlantic Wall was the most ambitious military fortification program of World War II. Following its conquest of Western Europe, Germany had to defend some 5,000 kilometers of Atlantic coastline from the Spanish border to the Arctic Circle. The United States' entry into the war and the inevitability of an Anglo-American landing in Western Europe resulted in the fortification of this coastline along its entire length. Focusing on the northern Atlantic Wall in the Low Countries and Scandinavia, this title addresses the special defensive features and unique aspects of fortification in these countries, such as the early focus on fortifying Norway, due to early British commando raids; the greater use of turreted naval guns; and the establishment of first-line Flak defenses in the Low Countries to counter the Allied strategic bombing campaign.
About the Author
Steven J. Zaloga received his BA in history from Union College and his MA from Columbia University. He has worked as an analyst in the aerospace industry for over two decades, covering missile systems and the international arms trade, and has served with the Institute for Defense Analyses, a federal think-tank. He is the author of numerous books on military technology and military history, with an accent on the US Army in World War II as well as Russia and the former Soviet Union. The author lives in Abingdon, Maryland.
Praise For The Atlantic Wall (2): Belgium, the Netherlands, Denmark and Norway…
"... a clear and interesting work, in a field where too little of the source materials is in English. It is unreservedly recommended to anyone with an interest in World War 2 Coastal defense." -Bolling Smith, Coast Defense Journal (March 2010)

"Other recommendations for specialty military history collections include... Steven Zaloga's The Atlantic Wall (2), covering Belgium, the Netherlands, Denmark and Norway as it surveys Germany's ambitious Atlantic Wall program of World War II." -The Bookwatch (January 2010)

"Author Steven J. Zaloga takes us through the planning, design and implementation of these defenses while giving us a look at what it was like to live with these structures. The illustrations of Adam Hook allow us to have a look inside many of the different defenses and see how they were designed to work and complement each other. Thankfully, many of the massive and even smaller defense positions are still extant and the book has a considerable number of period and current photos of these sites. There is even a section on visiting these places, many of which are easily accessible and part of museums and memorials. In all a fascinating look at some of the more interesting defensive structures of WWII. A book that you are sure to enjoy." -Scott Van Aken, Modeling Madness / www.modelingmadness.com (February 2010)
Advertisement