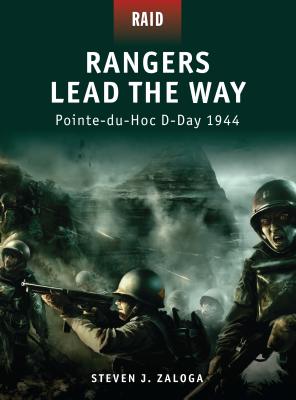 Rangers Lead the Way: Pointe-Du-Hoc D-Day 1944 (Paperback)
Pointe-Du-Hoc D-Day 1944
Osprey Publishing (UK), 9781846033940, 64pp.
Publication Date: September 22, 2009
Description
In the early hours of D-Day, 1944, a group from the US Army 2nd Rangers Battalion were sent on one of the legendary raids of World War II. Their mission was to scale the cliffs overlooking Omaha beach and assault the German coastal artillery at Pointe-du-Hoc, which allied intelligence had identified as a threat to the impending invasion. It was thought that only a raid could ensure that the guns would remain silent during the D-Day landings. But allied intelligence was wrong. After climbing the cliffs under aggressive German fire and securing the battery site, the Rangers discovered that the guns themselves were no longer there. The determination of those heroic Rangers involved in the initial raid allowed them to locate the guns, which had been relocated to firing positions facing Utah beach, and destroy them before they could be used.
In the first of a brand new series for Osprey, this act of audacious daring is brought to life, complete with fully illustrated artwork, detailed maps and rare German accounts. Taking a closer, more critical look at a famous story, Steven Zaloga analyzes every detail of the raid, from the intelligence failings behind the mission to the boldness of the Rangers' actions in the face of incredible odds. You'll never get so close to the action.
About the Author
Steven J. Zaloga received his BA in history from Union College and his MA from Columbia University. He has worked as an analyst in the aerospace industry for over two decades, covering missile systems and the international arms trade, and has served with the Institute for Defense Analyses, a federal think-tank. He is the author of numerous books on military technology and military history, with an accent on the US Army in World War II. The author lives in Abingdon, Maryland.
Praise For Rangers Lead the Way: Pointe-Du-Hoc D-Day 1944…
"In his book on this most famous of Ranger missions, author Steven J. Zaloga covers the initial construction of the site, the planning of the Allies and the assault itself. As usual, the mission did not go quite according to plan. The following chain of events is clearly depicted in the book, along with some excellent 3-D maps of the various areas of interest, excellent period photos and color photographs of many of the remaining relics that are part of Normandy today. It is a superb read as seen from both sides of the event with interviews of survivors that really add a lot of spice to things. A superb start to a new series and one I know you will enjoy reading." - Scott Van Aken, Modeling Madness (October 2009)
Advertisement