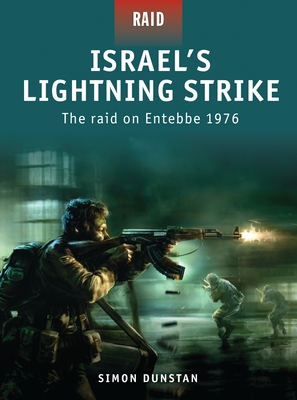 Israel's Lightning Strike: The Raid on Entebbe 1976 (Paperback)
The Raid on Entebbe 1976
Osprey Publishing (UK), 9781846033971, 64pp.
Publication Date: September 22, 2009
* Individual store prices may vary.
or
Not Currently Available for Direct Purchase
Description
The Israeli Special Forces' operation at Entebbe goes down in history as one of the most audacious counter-terrorist assaults ever conducted. On June 27, 1976, four terrorists (two of the Popular Front for the Liberation of Palestine and two of the German Baader-Meinhof terrorist group) highjacked a passenger jet and forced a landing in Entebbe, Uganda. Here they were met by reinforcements, and transferred all the Jewish and Israeli prisoners to the terminal building, with the exception of a few hostage releases. As Idi Amin's assistance to the terrorists became increasingly clear, the Israeli government began preparations for a military assault. The element of surprise was crucial; never before had such a large-scale raid at such a long distance been successfully undertaken. This is the incredible story of how the Israeli Special Forces defied radar for over 2,000 miles, masqueraded as a tyrant in a Mercedes and captured uniforms, and defeated an army in brutal combat, culminating in a triumph of sheer audacity and nerve. A compelling book chronicling an incredible moment in history.
About the Author
Simon Dunstan is a well-established author, film-maker and photographer in the field of military history, with several titles already published with Osprey. His books have covered topics such as helicopter and armored warfare in Vietnam, the Challenger main battle tank, the British Guards and armored warfare in Korea. He also presented the Great Raids series for the History Channel including a production detailing the Entebbe Raid. Simon lives and works in London. The author lives in London, England.
Praise For Israel's Lightning Strike: The Raid on Entebbe 1976…
"...the raid section is smartly written, detailed and fast-paced. 'History book' and 'exciting' are not mutually exclusive terms...There are plenty of Osprey's usual high-quality images, art and cartography...I especially enjoyed the airport graphics with a detailed timeline and legend of critical locations....This is my first exposure to the 'Raid' series and I am impressed." - livingdice.com (November 2009)

"It is infrequent that your reviewer runs across a book that can truly be called riveting. Yet this one kept me reading into the small hours of the morning. Author Simon Dunstan has provided an excellent edition to this series. His research is top notch and the small sideline notes really add quite a bit to the tale. There are superb photos of the men and equipment involved as well as Osprey's fine 3D maps that help to clarify how the operation proceeded. The result is a book that I can easily give my highest recommendation." -Scott Van Aken, Modeling Madness/modelingmadness.com (December 2009)

"Dunstan ably puts the events of Entebbe into a wider perspective, explaining the airliner hijackings common at the time and detailing the various Palestinian terror groups that were striking at Israel. Indeed the author should be praised for the general readability of the book, which seems more like a novel at times... All in all, this book is a triumph from Osprey. It has started this new series with a veritable bang. I can only hope this series continues in the same vein." -Karl N. Hoy, Toy Soldier & Model Figure
 
Advertisement