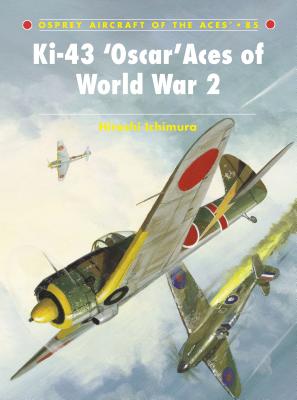 Ki-43 'Oscar' Aces of World War 2 (Paperback)
Osprey Publishing (UK), 9781846034084, 96pp.
Publication Date: March 31, 2009
* Individual store prices may vary.
or
Not Currently Available for Direct Purchase
Description
Dubbed the 'Oscar' by the Allies, the Ki-43 Hayabusa was the most prolific Japanese fighter of World War II. Produced in great numbers, it initially proved superior to most US and British fighter types, due to its excellent maneuverability. The light weight and large wing area gave it a small turning radius and a high rate-of-climb which was ideal for pilots in close combat fighting. However, the Ki-43's swiftness and agility came at a price, with the low-wing design meaning that firepower and safety had to be sacrificed. With only two machine guns, a Ki-43 pilot would have to perform a dangerous balancing act between achieving a high rate of kills and their own survival. Surprisingly, more Japanese pilots achieved Ace status flying the Hayabusa than any other plane and despite being steadily outclassed by new fighters, the Ki-43 remained in frontline JAAF service until the war's end. This book expertly charts the experiences of the pilots and discusses the early stages of the war in South-East Asia, China, Burma and New Guinea. Accompanied by detailed appendices and specially commissioned artwork, this is the first volume in English to focus exclusively on the exploits of the Ki-43.
About the Author
Hiroshi Ichimura is the son of a JAAF wartime pilot. He has worked as the editor of various modeling magazines in Japan since 1981, and is presently editor-in-chief of Scale Aviation. His publishing house, Dai Nippon Kaiga, has also been releasing Japanese-language Osprey series titles in Japan since 2000 - indeed, he has translated five of them. The author/co-author of four JAAF-related titles, this will be his first book for Osprey.
Praise For Ki-43 'Oscar' Aces of World War 2…
"Hiroshi Ichimura has done a great service by recording the exploits of the most important Japanese army fighter of the Pacific War. The Type 1 Fighter (the Ki-43/Oscar of the book's title) was probably second in importance only to the Japanese navy's Type Zero carrier fighter, for which it was often mistaken, among Japanese warplanes in that conflict. While the navy's Zero had proved itself in combat over China in 1940 and 1941 before war exploded in the Pacific, the Type 1 Fighter was just coming into operational service when the war began... Hiroshi Ichimura is to be congratulated on an excellent effort. This book covers a gap in available literature on the Pacific air war. The book provides insights into a notable fighter, its units, pilots and the campaigns where it operated. This book is a keeper; recommended both for the libraries of Pacific war neophytes and aficionados." -Richard Dunn, www.warbirdforum.com

"Full of photos of the aircraft and their pilots, we can see how these men did as the lr carried on. As with all of Osprey's 'Aces' books, there are several pages of color profiles of their planes as well as a table of the aces and their eventual fate. It is an excellent look at a subject that has a lot of interest to many people and one that I know you will enjoy." -Scott Van Aken, www.modelingmadness.com (April 2009)

"The Ki-43 Hayabusa (Peregrine) was produced in greater numbers than any other land-based Japanese fighter of WW2, and more Japanese pilots achieved ace status in this aircraft than any other. This title is the first in the English language to focus on their exploits." -Wonderpedia
Advertisement