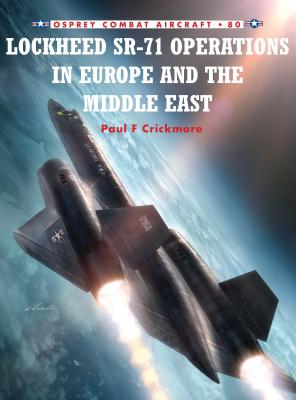 Lockheed Sr-71 Operations in Europe and the Middle East (Paperback)
Osprey Publishing (UK), 9781846034183, 96pp.
Publication Date: August 18, 2009
* Individual store prices may vary.
or
Not Currently Available for Direct Purchase
Description
An icon of American military might during the Cold War (1946-1991), the Lockheed SR-71 'Blackbird' had covered itself in glory during the aircraft's debut in over-flights of North Vietnam and North Korea. When the US intelligence community realized that the aircraft could fly faster and higher than any Soviet fighter, and outrun most surface-to-air missiles, they instructed the United States Air Force to establish a European detachment of the aircraft.
In 1976, SR-71 Det 4 commenced operations from the Royal Air Force base at Middenhall in the United Kingdom. Its mission was to monitor Warsaw Pact troop movements along the Iron Curtain and photograph the various ports with access to the Batlic and Barents Seas that were home to the Soviet Union's nuclear submarine fleet. Despite the best efforts of the USSR, they were never able to intercept a 'Blackbird' in flight.
The SR-71 continued its success during several missions over Libya. After surprise military strikes against several targets in 1986, the SR-71s managed to fly over a sophisticated and fully-integrated defense system in order to take bomb assessment photos.
Written by an expert on SR-71 operations, this book picks up where Combat 76: Lockheed SR-71 Operations in the Far East left off.
About the Author
During his time as an air traffic controller at the London Air Traffic Control Centre, Paul Crickmore gained a unique introduction into SR-71 operations from RAF Mildenhall, Suffolk. He teamed up with Osprey to produced the first detailed book ever to be published on the subject. When additional information became available to him in 1990 following the initial shut down of SR-71 operations, Crickmore produced an even more detailed book, Lockheed SR-71 The Secret Missions Exposed - the standard reference work on the subject. The work was acclaimed by both the aviation press, Ben Rich (late president of the Skunk Works) and the crews that flew the SR-71. He is also the author of the first detailed book about the F-117 written in partnership with his wife Alison, published by Motorbooks International in 1999.
Praise For Lockheed Sr-71 Operations in Europe and the Middle East…
"Paul F. Crickmore's Lockheed SR-71 Operations in Europe and the Middle East provides a fine addition to the Osprey Combat Aircraft series, covering tensions around the deployment of the aircraft and its mission to monitor Warsaw pact troop movements and photograph ports." -The Bookwatch (December 2009)

"What makes this particular book such a great read is the depth of information provided on operations of the time. The accounts of the pilots and others involved (including those of pilots sent up to try and intercept the Blackbird) adds much to making this such a fascinating book. Add to that the great choice of photos and several pages of well drawn profiles and you have a book that I know you will enjoy." -Scott Van Aken, Modeling Madness / www.modelingmadness.com (February 2010)
Advertisement