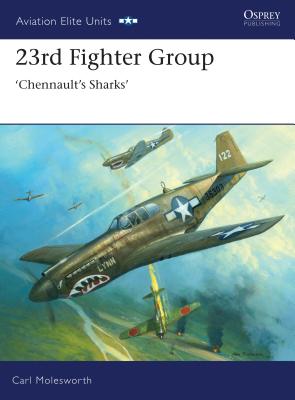 23rd Fighter Group: Chennault's Sharks (Paperback)
Chennault's Sharks
Osprey Publishing (UK), 9781846034213, 128pp.
Publication Date: May 19, 2009
* Individual store prices may vary.
or
Not Currently Available for Direct Purchase
Description
Staffed with inexperienced USAAF pilots and led by a handful of seasoned veterans of the American Volunteer Group (AVG), the 23rd FG was formed in the field at Kunming, in China, on July 4, 1942 and flew combat missions that same day. The group's three squadrons - the 74th, 75th and 76th Fighter Squadrons - were initially equipped with war-weary P-40s handed down from the AVG. These were supplemented by the attached 16th FS, flying new P-40Es, and all squadrons adorned the noses of their airplanes with fearsome and iconic sharksmouth designs.
The 23rd FG fought a guerrilla war against the Japanese, steadily moving pilots and aircraft from one remote air base to another to keep the enemy off balance. Because China could only be supplied by air from India, there were constant shortages of aircraft, fuel and ammunition with which to contend. The 23rd FG met these challenges head-on and by the end of the war its pilots had compiled a score of 594 aerial victories and nearly 400 ground kills. Among the 47 aces who flew in the 23rd were colorful characters such as David L 'Tex' Hill, Robert L 'Bob' Scott and Clinton D 'Casey'. The human cost was high, however - 126 pilots lost their lives in China while serving in the 23rd.
About the Author
Carl Molesworth has specialized in producing unit histories for the USAAF fighter groups of the CBI since the 1980s, interviewing surviving veterans from these little-publicized units.
Praise For 23rd Fighter Group: Chennault's Sharks…
"23rd Fighter Group: Chennault's Sharks by Carl Molesworth is among the latest releases from Osprey in their "Aviation Elite Units" series. Priced at $25.95 each, the book follows the typical Osprey format of supplying lots of good information and photos along with numerous color profile drawings. The 23rd FG has received [little] coverage so this book is particularly welcome since it shows some previously unpublished photos of the unit's P-40s and P-51s." -JT, Air Classics (June 2009)

"The book is full of superb photographs, many of which I have not seen in print before. Author Carl Molesworth does a superb job of telling the story of the 23rd FG. His knowledge of the subject and access to former pilots and crews over the years has made this an outstanding book. This is further enhanced by the excellent art work of Jim Laurier and some rare color photos. This book on the 23rd is one of the best around and one I can recommend to you without reservation." -Scott Van Aken, Modeling Madness (www.modelingmadness.com) (July 2009)
Advertisement