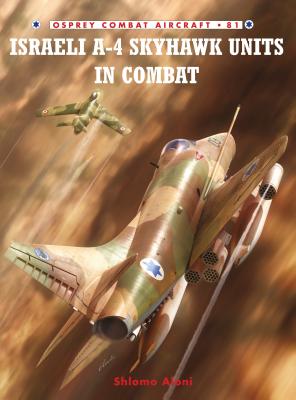 Israeli A-4 Skyhawk Units in Combat (Paperback)
Osprey Publishing (UK), 9781846034305, 96pp.
Publication Date: November 24, 2009
Description
The light and agile A-4 Skyhawk was the first modern American jet to be offered to the Israeli Air Force, marking the point where the US took over from France as Israel's chief military supplier. Deliveries began too late for the A-4 to fight in the Six-Day War (1967), but it soon formed the backbone of the IAF's ground-attack force. From 1969 to 1970 it flew endless sorties against Egyptian forces in the War of Attrition (1967-1970). Then, during the Yom Kippur War (1973), five squadrons of A-4s saw combat and 50 planes were lost as they battled against the Arab armored onslaught. Using previously unpublished first-hand accounts and rare photography from the IAF archives and pilots' private collections, Shlomo Aloni tells the definitive history of the IAF's A-4 squadrons, including the story of Ezra "BABAN" Dotan who became an ace with an unique double-kill of MiG17s.
About the Author
Israeli author Shlomo Aloni is a life-long student of Middle East air warfare in general and of the Israeli Air Force in particular. Israeli correspondent of the magazines Air Forces Monthly (UK) and Fuerza Aerea (Spain). He is a regular contributor to the following journals: Le Fana de l'Aviation (France), BIAF, Kne-Mida (Israel), Avion Revue (Spain), Air Enthusiast, Air International, Fly Past, Scale Aviation Modelling and Wings of Fame (UK). Together with Brian Cull and David Nicolle, Shlomo is the co-author of Spitfires over Israel (Grub Street 1993) and Wings over Suez (Grub Street 1996). The author lives in Zoran, Israel.
Praise For Israeli A-4 Skyhawk Units in Combat…
"The Israelis have always been paranoid about photographing their aircraft, so the selection [of photographs] in this A-4 volume is limited, but there are many color profiles. The A-4s saw lots of action in the nation's various wars and it is good to see all this information under one cover." -Air Classics

"This is one of the best-reading books I have found in a long time. It spans the combat history of one of the true workhorses of the Israeli Air Force... The photography is the primary best seller for this book. There are MANY unpublished and rare photos from the Israeli Archives and private collections. Even if you don't read the book at least look at the pictures, they are well worth it. AND of course there are the familiar Osprey Color Plates. These are outstanding, and provide the modeler with many detailed descriptions and variations to choose from." -Rick Bellanger, IPMS (January 2010)

"This book by Shlomo Aloni covers the initial search for a light attack aircraft, the use of the Skyhawk in the War of Attrition and then the Yom Kippur War. Then the ascendency of the A-4 as Israel's premier light attack craft and its inevitable reduction as other types take its place in front line units. All of this is superbly illustrated by photos of these planes in action and the usual excellent profile section that we have come to expect from Osprey." -Scott Van Aken, Modeling Madness / www.modelingmadness.com (February 2010)

"This title is Aloni's fifth for Osprey and like the previous four, opens an important window into the IDF/IAF... A great book about our special aircraft." -Skyhawk Assocation (Spring 2010)
Advertisement