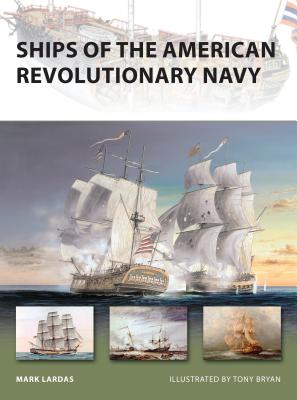 Ships of the American Revolutionary Navy (Paperback)
Osprey Publishing (UK), 9781846034459, 48pp.
Publication Date: November 24, 2009
Description
In this title, Mark Lardas explores the origins of American warships, primarily light and medium frigates, built for the Continental Navy during the years 1776-1783. This was the first navy of the United States and much of the fleet was comprised of ships that had been modified from existing vessels, converted into warships to provide a crucial service during the American Revolutionary War. Despite having no real funding, this unique fleet had a surprising amount of success against the might of the Royal Navy, and this title discusses the strengths and weaknesses of each design, and the differences between European and American warships of the time. With a close look at how these ships performed in key battles, as well as the exploits of John Paul Jones - the founding father of the United States Navy - this is a complete, illustrated overview of the ships' service and development until France's entry into the war and the subsequent decline in importance of the Continental Navy.
About the Author
Mark Lardas holds a degree in Naval Architecture and Marine Engineering, but spent his early career at the Johnson Space Center doing Space Shuttle structural analysis, and space navigation. An amateur historian and a long-time ship modeler, Mark Lardas is currently working in League City, Texas. He has written extensively about modeling as well as naval, maritime, and military history. The author lives in League City, Texas.
Praise For Ships of the American Revolutionary Navy…
"This volume by Osprey has 48 pages and provides an excellent overview the design and development, the operational history, and the ships of the Continental Navy... I highly recommend this volume to anyone interested in the American Revolution, wooden wind-powered warships, or the history of the US Navy." - Jeff Leiby, IPMS (January 2010)

"Other recommendations for specialty military history collections include... Mark Lardas' Ships of the American Revolutionary Navy, telling of warships during the years 1776-83 who formed the first navy of the US." -The Bookwatch (January 2010)

"In this volume, author Mark Lardas looks at the design and the development of ships built in the US as well as those purchased or converted. We also see how these ships performed in battle  with many now-famous captains, ships and events. The book then goes into a look of each of the classes of ships built and each of the three major types is provided a section. This is superbly illustrated by Tony Bryan and includes cut-away illustrations of several types. An inclusion of period art work and illustrations also helps us to see what these ships looked like. An excellent book on a most interesting subject and one that I am positive you will find to be of interest. One that will be pulled from the shelves time after time and one I can highly recommend to you." -Scott Van Aken, Modeling Madness/modelingmadness.com (December 2009)
Advertisement