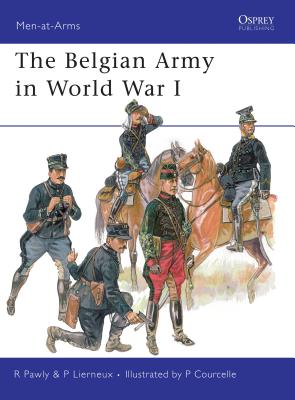 The Belgian Army in World War I (Paperback)
Osprey Publishing (UK), 9781846034480, 48pp.
Publication Date: June 23, 2009
* Individual store prices may vary.
or
Not Currently Available for Direct Purchase
Description
While small in numbers, the Belgian Army played a vital role in World War I (1939-1945) that is often overlooked. Germany's invasion of neutral Belgium, which led Britain to declare war in August 1914, should have been swift and fierce yet the unexpected heroic defense, against great odds, of Belgian fortresses, frustrated the German Schlieffen Plan for a thrust to Paris and a lightning victory. The plucky Belgian resistance proved successful in buying time for French and British troops to mobilize and report to the front, where the Belgians would then go on to fight, stubbornly defending the northern end of the Allied trench line for the rest of the war. Discover the story of this determined Army, from their organization and commanders, to their uniforms and equipment. The only main combatant army of World War I not previously covered by Osprey, this volume will be an important addition to any enthusiast's collection, accompanied by detailed artwork and archive photographs.
About the Author
Ronald Pawly was born in Belgium in 1956 and still lives and works there. He is a respected member of several societies for Napoleonic studies and an expert on 19th century military portraiture. He has previously written for Osprey Men-at-Arms 355, Wellington's Belgian Allies 1815; MAA 371, Wellington's Dutch Allies 1815; MAA 371, Napoleon's Red Lancers; MAA 378, Napoleon's Guards of Honour; and Elite 115, Napoleon's Imperial Headquarters (1). Although, a leading Napoleonic historian, Ronald Pawly has also always been fascinated by the First World War and has heavily researched the Belgian involvement in such a conflict.
Praise For The Belgian Army in World War I…
"This book fully covers the build up of the army, those heroic days and weeks in 1914 when the Belgians held back the German offense and their continuing defense of the northern part of the front until the end of the war. As with all Osprey Men-at-Arms books, it takes a look at the uniforms and equipment that were used by these men during the war. Assisted by a good choice of period photographs and the superb illustrations of Patrice Courcelle, you get a look at how these men lived and fought, defending what was, during most of the war, basically a swamp land dotted with small defensible islands... This all makes yet another great addition to the superb library of Osprey titles and one you can purchase with confidence." -Scott Van Aken, Modeling Madness - www.modelingmadness.com (July 2009)

"The first half of the book is a well-constructed concise overview of the Belgian Army's part in the campaigns of the western front. It covers their courageous fight against the German invasion and how this brought time for British and French forces to arrive in the region. It then goes onto their part in holding the line from 1915 to 1917 until the final grand offensives in 1918...Overall this a great introduction to the Belgian Army of World War One and it will prove a handy resource to Wargamers and Modellers alike." - Flames of War (December 2009)
Advertisement