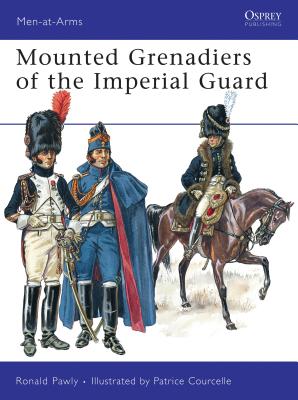 Mounted Grenadiers of the Imperial Guard (Paperback)
Osprey Publishing (UK), 9781846034497, 48pp.
Publication Date: November 24, 2009
* Individual store prices may vary.
or
Not Currently Available for Direct Purchase
Description
Mounted upon their huge black horses, the Mounted Grenadiers of the Imperial Guard were the senior heavy cavalry unit of the French army and were never defeated in battle. Their long list of battle honors earned them the nicknames 'the Giants' and 'the Gods'.
In this latest addition to the Osprey mini-series on the Imperial Guard, author Ronald Pawly tells the story of this famous unit using unparalleled documentary and pictorial sources. Along with detailed artwork depicting the unit's colorful uniforms, this book gives a history of the unit's organization and record drawn from original letters, orders, and inspection reports that still survive in the Paris Archives. Interspersed are the stories of some of the individuals that served in the Mounted Grenadiers and helped to make it one of the most storied units to have served during the Napoleonic Wars (1799-1815).
About the Author
Ronald Pawly was born in Antwerp, Belgium in 1956 and still lives and works in that city. He is a respected member of several international societies for Napoleonic studies, and an expert on 19th century military portraiture. He is the author of The Red Lancers: Anatomy of a Napoleonic Regiment (Crowood Press, 1998), and of a study of Napoleonic veterans' tombs in Belgium. He has previously written for Osprey Men-at-Arms 355: Wellington's Belgian Allies 1815; MAA 371: Wellington's Dutch Allies 1815; MAA 371: Napoleon's Red Lancers; and MAA 378: Napoleon's Guards of Honour. The author lives in Antwerp, Belgium.
Praise For Mounted Grenadiers of the Imperial Guard…
""Osprey's 'Men-at-Arms' series offers a narrowed focus on equipment and uniforms throughout history and military collections will appreciate some new additions... Ronald Pawly's Mounted Grenadiers of the Imperial Guard surveys troops of Napoleon's Old Guard." -The Bookwatch (January 2010)

"Napoleonic uniforms are some of the most colorful and complex of any period. Author Ronald Pawley has done a fine job of covering the units and their use during the time of Napoleon. The book starts with the Consular Guard, then describes the Imperial Guard and their deployments in the time frame of 1807 to 1811. Russia in 1812 has its own section followed by the rebuilding of the regiment and its use in the later defensive campaigns. Finally, there is a section on Napoleon's abdication and the time known as 'The Hundred Days'. All this is superbly illustrated by Patrice Courcelle as well as a goodly number of period illustrations an photos of extant uniforms and equipment. It all makes for a book that is both interesting and informative. Like all of Osprey's titles, it is one that you can buy with confidence in knowing you are getting the best." -Scott Van Aken, Modeling Madness/modelingmadness.com (December 2009)
Advertisement