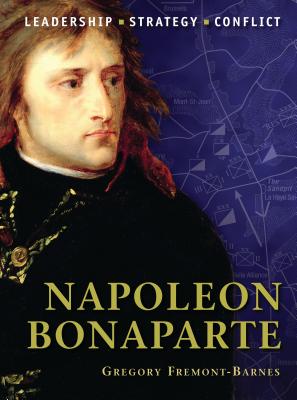 Napoleon Bonaparte: Leadership, Strategy, Conflict (Paperback)
Leadership, Strategy, Conflict
Osprey Publishing (UK), 9781846034589, 64pp.
Publication Date: May 25, 2010
Description
Napoleon Bonaparte is renowned as one of the great military commanders in history, and the central figure in so many of the events of the French Revolutionary and Napoleonic wars. Throughout the first decade of the 19th century he won battle after battle by wielding the Grande Arm_e decisively against the other powers of Europe - Prussia, Austria and Russia. Yet his fortunes changed in 1812 when the invasion of Russia wrecked his forces, and Napoleon suffered his final defeat at Waterloo in 1815.
About the Author
Gregory Fremont-Barnes holds a doctorate in Modern History from Oxford University. A visiting Senior Lecturer in the Department of War Studies at the Royal Military Academy Sandhurst, he has written on a wide range of military and naval subjects, including The French Revolutionary Wars, The Peninsular War, 1807-1814, The Fall of the French Empire, 1813-1815, The Boer War, 1899-1902, The Wars of the Barbary Pirates, Trafalgar 1805, Nelson's Sailors, The Indian Mutiny, 1857-58 and American Bomber Crewman in World War II, 1941-45. He is also editor of the two-volume Encyclopedia of the Age of Political Revolutions and New Ideologies, 1760-1815, the three-volume Encyclopedia of the French Revolutionary and Napoleonic Wars and co-editor of the five-volume Encyclopedia of the American Revolutionary War.
Praise For Napoleon Bonaparte: Leadership, Strategy, Conflict…
"In all, it is a fascinating look at one of the world's most famous leaders and his campaigns. If you have no other books on the man, this would be an excellent choice.  A most interesting read and one that I am sure you will enjoy." - Scott Van Aken, modelingmadness.com

"Plenty of books survey Napoleon's life: this provides a military account of his martial career and analyzes and assesses his roles." - The Midwest Book Review

"Napoleon Bonaparte is a prominent name among military figures due to his tactical genius. He was one of the greatest military commanders in history. This book contains details and analysis of the battles of Austerlitz and Waterloo; both are considered to be Napoleons greatest battles." - www.mataka.org (October 2010)

"Like France's 'Little Corporal' himself, this informative 64-page book is a relatively
small package that wields a powerful influence that is out of all proportion to its relatively diminutive size." - Toy Soldier & Model Figure
Advertisement