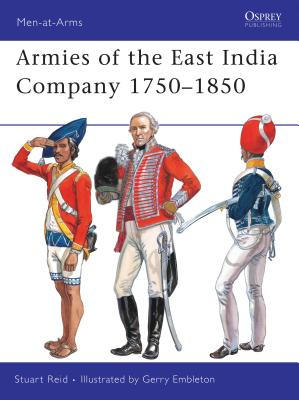 Armies of the East India Company 1750-1850 (Paperback)
Osprey Publishing (UK), 9781846034602, 48pp.
Publication Date: August 18, 2009
Description
Contrary to popular belief, the capture of India was not accomplished by the British Army, but by the private armies of the East India Company, whose primary objective was the protection of their trading empire. Under the leadership of the legendary Robert Clive (founder of the East India Company) and Stringer Lawrence, this small force of mercenaries and adventurers grew in size and strength to eventually become an army larger than that of any European sovereign state. Highly disciplined and professional, it fought almost continuously for a century until the Great Mutiny of 1857 led to its disbandment and its troops passed into Crown service. One of the many British Army officers who fought with this force was Arthur Wellesley, the future Duke of Wellington. This is the fascinating history of the East India Company army, examining the many conflicts in which they fought, and their equipment and training, with its regiments of horse, foot and guns, which rivalled those of most European powers. The exotic uniforms combining traditional Indian and British dress are illustrated in detail and make for a wonderfully colorful account of a private band of adventurers that successfully captured the jewel of the British Empire.
About the Author
Stuart Reid was born in Aberdeen in 1954 and is married with one son. He has worked as a librarian and a professional soldier and his main focus of interest lies in the 18th and 19th centuries. This interest stems from having ancestors who served in the British Army and the East India Company and who fought at Culloden, Bunker Hill and even in the Texas Revolution. His previous works for Osprey include the highly acclaimed titles about King George's Army 1740-93 (Men-at-Arms 285, 289 and 292) and the British Redcoat 1740-1815 (Warriors 19 and 20).
Praise For Armies of the East India Company 1750-1850…
"As this series is generally about uniforms and equipment, throughout the book the author and illustrator have shown these items as used by the soldiers of the various units. They are quite colorful and in keeping with what you'd expect of Napoleonic era uniforms. Of course, they have been adapted to the climate and somewhat to the culture of the soldiers.  Thanks to the excellent choice of period illustrations and those done specifically for the book, we get an idea of how these men were dressed and outfitted. This all makes yet another great addition to the superb library of Osprey titles and one you can purchase with confidence." - Scott Van Aken, Modeling Madness (October 2009)

"Essentially a brief overview of the organization and uniforms of the forces available to Madras, Bengal and Bombay, Armies of the East India Company 1750-1850 displays remarkable depth for such a slender volume. Perhaps the highlight of the book is the unrivaled detail of the exotic uniforms, combining traditional Indian and British dress, worn by the varied regiments. Ably supporting Stuart's text in this regard are beautiful color plates by Gerry Embleton, an internationally respected authority on 18th century military uniforms." - Andrew Hind, Strategy and Tactics Magazine
Advertisement