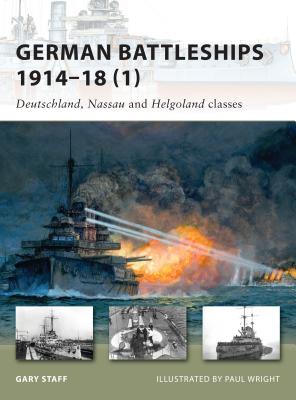 German Battleships 1914–18 (1) (Paperback)
Deutschland, Nassau and Helgoland classes (New Vanguard)
Osprey Publishing, 9781846034671, 48pp.
Publication Date: February 23, 2010
Other Editions of This Title:
Paperback (6/27/2006)
Paperback (6/22/2010)
* Individual store prices may vary.
Description
Supported by official documents, personal accounts, official drawings and specially commissioned artwork, this volume is an enlightening history of the Deutschland to Osfriesland classes. Detailing the last of the pre-dreadnaught battleship classes, this book goes on to explain the revolutionary developments that took place within the German Imperial Navy as they readied themselves for war. This included creating vessels with vast increases in size and armament. This account of design and technology is supplemented by individual ship histories detailing combat experience complete with first-hand accounts. The specially commissioned artwork also brings this history to life with recreations of the battleship Pommern fighting at Jutland and ships of the Osfriesland class destroying HMS Black Prince in a dramatic night-time engagement.
About the Author
Gary Staff has had a life-long passion for the history of the German Imperial Navy and has translated many contemporary and original documents on the subject. He contibuted to a Channel 4 documentary on Jutland, exploring the Imperial Navy's experience of the battle. He grew up in Australia and currently lives on the island of Palau. The author lives in Palau.
Praise For German Battleships 1914–18 (1): Deutschland, Nassau and Helgoland classes (New Vanguard)…
"Each section provides a brief history of the class, there technical specifications -- armor, armament, engines, and boilers -- and a service history of each ship... There is a color profile of one ship in each class, along with three paintings that illustrate particular episodes that these ships took part in. The illustrations are rounded off by a cut away of the SMS Rhineland... aficionados of the Kaiser's navy will find this a handy reference book for these three classes of German battleships." —Marc Blackburn, IPMS (March 2010)