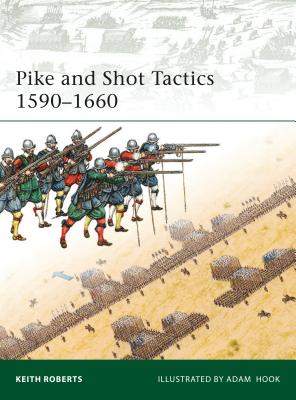 Pike and Shot Tactics 1590-1660 (Paperback)
Osprey Publishing (UK), 9781846034695, 64pp.
Publication Date: March 23, 2010
Description
Osprey's examiantion of pike and shot tactics employed in various wars of the 17th century. Throughout the 17th century, large parts of Europe were depopulated during wide-ranging and savage wars of religion and dynasty involving all of the major powers. These included the Dutch-Spanish wars of independence, The Thirty Years' War (1618-1648) and the English Civil Wars (1642-1651). This was the key period in the development of 'modern' infantry tactics, incorporating the use of pole-arms and muskets together, hence the popular expression 'pike and shot'. Although cavalry participated in such conflicts, it was the infantry that was the decisive arm. Such infantry tactics involved different national schools on thought and practice, tested bloodily in great battles.
Keith Roberts is a respected expert in this field, who draws on extensive knowledge of original manuals of tactics to create a revealing study of the period. This volume will be both attractive to wargamers and worthy of serious academic attention.
About the Author
Keith Roberts was born in 1955 and was educated at Highgate School. He graduated in History from Leicester University in 1977 and is currently employed by one of the major clearing banks. He is a military analyst and lecturer on the theory and practice of war in Europe and England between 1590 and 1660 and has published widely in this field. His previous work for Osprey includes Elite 25: Soldiers of the English Civil War (1) Infantry.
Praise For Pike and Shot Tactics 1590-1660…
"Keith Roberts presents a very useful overview of the typical battlefield small unit and large army tactics employed by generals and commanders during the war-torn pike and musket period of the late 16th century through the late 17th century. Well illustrated by Adam Hook, the book is typical of recent fine efforts of the Osprey Elite series, and is a fine addition to the bookshelves of miniature wargamers in particular, as well as to anyone wanting a good overview of European military tactics from the period." -Charge! Civil War Wargaming
Advertisement