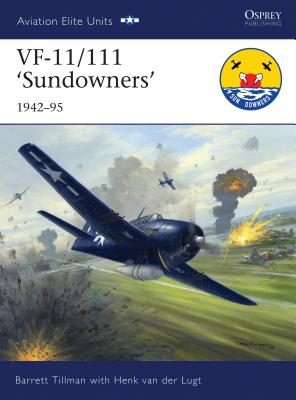 VF-11/111 'Sundowners' 1942-95 (Paperback)
Osprey Publishing (UK), 9781846034848, 128pp.
Publication Date: March 23, 2010
* Individual store prices may vary.
or
Not Currently Available for Direct Purchase
Description
Fighting Squadron 11 was established at San Diego in August 1943, beginning a half-century record that spanned aerial combat in three wars from the piston to the jet age. First deployed to Guadalcanal, the 'Sundowners' flew Grumman Wildcats and completed its tour as the Navy's third-ranking F4F squadron in terms of aerial victories.
Upon returning home, the 'Sundowners' transitioned to Hellcats in preparation for a second combat deployment. In 1944-45 the squadron flew from USS Hornet (CV-12), participating in the fast carrier strikes against the Philippines, Formosa and the Asian mainland. It finished the war as the Navy's 11th ranking fighter squadron with 158 credited victories.
Redesignated VF-111 in 1948, the 'Sundowners' converted to F9F Panthers and scored history's first jet-versus-jet victory over Korea in 1950. After the armistice, the squadron flew FJ-3 Furies and F11F Tigers, before receiving the world-class F8U Crusader in 1961. During the long Vietnam War, the 'Sundowners' logged six deployments, scoring MiG kills in both F-8s and F-4 Phantom IIs.
From 1978 to disestablishment in 1995, the 'Sundowners' flew F-14 Tomcats from USS Kitty Hawk (CV-63) and Carl Vinson (CVN-70), completing a record of 37 deployments from 17 flattops in its 52-year career. From World War 2 until after the Cold War, the 'Sundowners' established an unsurpassed record 'at the tip of the spear' in naval aviation history.
About the Author
Barrett Tillman is a professional author and speaker (History Channel's Dogfights) and has received five awards for history and literature. He learned to fly at age 16 in 1965, and has logged more than 500 hours in historic and current naval aircraft. His longtime affiliation with VF-11/111 pilots led to his being designated an honorary 'Sundowner' - a status he enjoys with two other Navy squadrons. Among more than 40 books, Tillman has written 6 other titles for Osprey. The author lives in Mesa, Arizona.
Praise For VF-11/111 'Sundowners' 1942-95…
"This latest effort packs a lot of information into a relatively small space... Although the squadron has seen its last sunset, its rich and glorious history is preserved in this fine book." - CDR Peter Mersky, The Hook (Summer 2010)
Advertisement