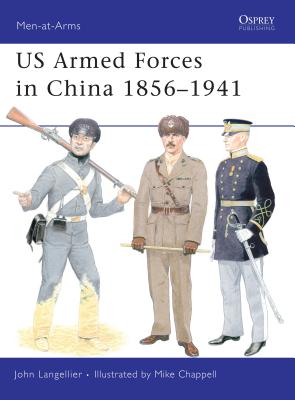 US Armed Forces in China 1856-1941 (Paperback)
Osprey Publishing (UK), 9781846034930, 48pp.
Publication Date: May 19, 2009
* Individual store prices may vary.
or
Not Currently Available for Direct Purchase
Description
This volume reveals the little-known story of the 90-year presence of American forces in China until the fall of Peking in 1941. Included is coverage of the first operations on the Pearl River in 1856 as well as US involvement in the Boxer Rebellion of 1900. As China entered a chaotic period in her history, known as the years of the "Warlords," American marines also participated in numerous small-scale amphibious landings. Finally, during the later Sino-Japanese War (1937-1945) and early into World War II (1939-1945), US volunteers of the "Flying Tigers" became renowned for their combat missions in support of Chinese Nationalist forces, and their aerial duels are also recounted by the author John P. Langellier, who has spent several years researching the subject in the US and China. Discover the history of these various actions and the different services involved, recreated in color artwork and illustrated with rare, previously unpublished photographs.
About the Author
John P. Langellier received his Bachelor's and Master's degrees in History from the University of San Diego and his Ph.D. in Military History from Kansas State University. He is the author of numerous books and monographs, and has worked as a historical curator for several years. He has previously written MAA 281, WAR 31 and CAM 95 for Osprey Publishing and has researched this particular subject in both the US and China.
Praise For US Armed Forces in China 1856-1941…
"In this book the author tells the story of these turbulent times and the units, Army, Navy and Marine, that took part in the various operations. A good portion of the book concentrates on the Boxer Rebellion as that was the major military event of this period, though there were other smaller conflicts. Men-at-Arms is basically a book on uniforms and the superlative illustrations of Mike Chappell show the various uniforms and equipment of the men of this period... The book also includes a number of quite rare photographs that should prove to be quite interesting to the enthusiast... In all, one of Osprey's most interesting titles and one that I know you will enjoy reading as much as did I." -Scott Van Aken, Modeling Madness www.modelingmadness.com (July 2009)

"This book is a good source of information on US uniforms in Asia and Pacific. The color plates are by Mike Chappell, who in my opinion is one of the best military illustrators around today. There is a good collection of contemporary photos relating to all the elements of the US forces covered. The book also contains three still photos from "modern" feature films made about the historic events encompassed by the text." -John Burt, Toy Soldier and Model Figure
Advertisement