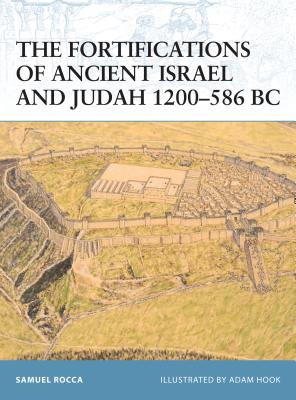 The Fortifications of Ancient Israel and Judah 1200-586 BC (Paperback)
Osprey Publishing (UK), 9781846035081, 64pp.
Publication Date: February 16, 2010
* Individual store prices may vary.
or
Not Currently Available for Direct Purchase
Description
This book provides a detailed study of the fortifications of the founders of Ancient Israel from the time of their first settlement in the Middle East, through the periods of the united and divided kingdoms, until the sack of Jersualem in 586 BC. It begins in the period of Israelite settlement in the First Iron Age period (1200-1000 BC). The extensive fortifications created by the famous kings Saul, David and Solomon are covered, including Gibeah, Jerusalem, Megiddo, Hazor and Gezer, which are described in the Bible. The period of the Divided Monarchy saw the creation of two separate political entities: the kingdoms of Israel and Judah. The enemies the two kingdoms faced in this period included Moab, Edom, the Arameans as well as the mighty empires of Assyria, Babylonia and Egypt.
About the Author
Samuel Rocca was born in Milan, Italy but now lives in Jerusalem with his wife and three sons. He served with the Israeli Defense Forces, and has worked as a teacher and a curator at the Bible Lands Museum, Jerusalem. Having studied biblical and classical archaeology at undergraduate level at the Hebrew University of Jerusalem, he went on to complete his MA there, before researching his PhD on Herodian Judaea at Bar-Ilan University. Samuel has given papers at numerous international conventions, and written articles for several academic journals. This is his first book for Osprey Publishing. The author lives in Jerusalem, Israel.
Advertisement