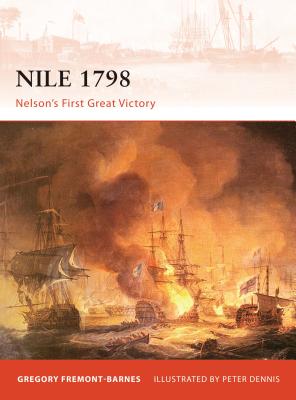 Nile 1798: Nelson's First Great Victory (Paperback)
Nelson's First Great Victory
Osprey Publishing (UK), 9781846035807, 96pp.
Publication Date: March 22, 2011
* Individual store prices may vary.
or
Not Currently Available for Direct Purchase
Description
Osprey's examination of one of the great sea battles of the French Revolutionary Wars (1792-1802). On the night of August 1, 1798, a British fleet under the command of Rear-Admiral Horatio Nelson met a French fleet under the command of Admiral FranCois-Paul Brueys D'Aigalliers. By morning the British had won a near-complete victory: only two of the 13 French ships-of-the-line escaped and the rest were either captured or destroyed. It was the first major independent victory of Nelson's career but more importantly it crippled the French effort in Africa by denying them access to the suplies and support from the sea.
About the Author
Gregory Fremont-Barnes holds a doctorate in Modern History from Oxford University. A visiting Senior Lecturer in the Department of War Studies at the Royal Military Academy Sandhurst, he has written on a wide range of military and naval subjects, including The French Revolutionary Wars, The Peninsular War, 1807-1814, The Fall of the French Empire, 1813-1815, The Boer War, 1899-1902, The Wars of the Barbary Pirates, Trafalgar 1805, Nelson's Sailors, The Indian Mutiny, 1857-58 and American Bomber Crewman in World War II, 1941-45. He is also editor of the two-volume Encyclopedia of the Age of Political Revolutions and New Ideologies, 1760-1815, the three-volume Encyclopedia of the French Revolutionary and Napoleonic Wars and co-editor of the five-volume Encyclopedia of the American Revolutionary War.
Praise For Nile 1798: Nelson's First Great Victory…
"The Battle of the Nile ranks as the first major independent victory of Nelson's career. The British fleet had crippled the French campaign in North Africa by denying Napoleon's army access to seaborne supplies and support. Besides asserting naval supremacy in the Mediterranean, the British victory encouraged other European countries to turn against France ... This 96-page book covers the opposing commanders and the forces at their disposal, their battle plans, and the broad sweep of history behind the fateful Battle of the Nile. New maps and specially commissioned artwork by Howard Gerrard help illuminate this highly recommended book about one of history's key sea battles." -Toy Soldier & Model Figure (July 2011)
Advertisement