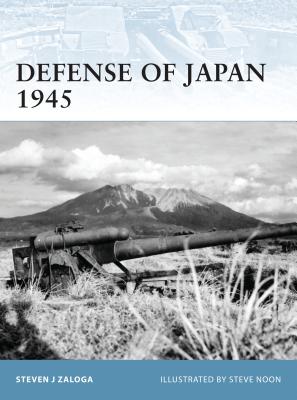 Defense of Japan 1945 (Paperback)
Osprey Publishing (UK), 9781846036873, 64pp.
Publication Date: October 19, 2010
Description
In 1945, with her fleet destroyed and her armies beaten, the only thing that stood between Japan and an Allied invasion was the numerous coastal defence positions that surrounded the islands. This is the first book to take a detailed look at the Japanese home island fortifications that were constructed during 1941-45. Utilizing diagrams, specially commissioned artwork, and sources previously unavailable in English, Steven Zaloga examines these defences in the context of a possible Allied invasion, constructing various arguments for one of the greatest 'what if' scenarios of World War II, and helping to explain why the Americans decided to go ahead with a nuclear option.
About the Author
Steven J. Zaloga received his BA in history from Union College and his MA from Columbia University. He has worked as an analyst in the aerospace industry for over two decades, covering missile systems and the international arms trade, and has served with the Institute for Defense Analyses, a federal think-tank. He is the author of numerous books on military technology and military history, with an accent on the US Army in World War II as well as Russia and the former Soviet Union.
Praise For Defense of Japan 1945…
"[Zaloga's] coverage of coast defense, anti-aircraft defense, radars, various types of kamikazes, and how the Japanese high command planned to and did employ them, is quite good ... this small work is much better than some of the more extensive coverage in books ... an excellent book for an overall view of how the home islands were to be held by the Japanese." -J.E. Kaufmann (November 2010) 

"It is an excellent book that should be on the shelves of anyone interested in the Pacific War in general and what the Allies could have faced during an invasion of the Japanese home islands. Highly recommended." - Scott Van Aken, Modeling Madness (October 2010)

"...this is the first book ... to consider [Japan's coastal defenses] and provides diagrams, specially comissioned artwork, and rare resources to explore the topic."
- The Midwest Book Review

"This book is most valuable for placing the final defense of the Japanese homeland in a unitary context, relating it to overall strategy and resource allocation. It is highly recommended to anyone interested in World War 2 in the Pacific." -Bollingsmith, The Coast Defense Journal
Advertisement